Happy 4th of July y'all! ♥

Well, I've survived my first 13 days of being a new mom (barely)! Let me just say...being a mom is NOT easy! This is real talk, no fake talk here. I've definitely had a couple of days of the "postpartum blues." People did NOT prepare me for how hard breastfeeding was going to be. I was super prepared for my labor and birth, but I was totally not prepared for breastfeeding or having a baby with reflux. I seriously thought breastfeeding was going to be a walk in the park. I mean how hard can something so simple be? VERY hard. Oh my word, I never cried during my 100% medicine-free birth, but the second day of breastfeeding, I was sobbing like a baby. It feels like needles and knives slicing my nipples to shreds (sorry for the visual, told you, real talk!) And yes, I've had 4 different lactation consultants help me, and they all said he was latching on correctly...it just hurts me. I still have to grit my teeth when he latches on and its been almost 2 weeks. Sore, bleeding, cracked nipples are NO joke. Let's just say, if I didn't know how great breast milk was for my baby, I would definitely quit. A couple of nights ago, I just sat there in the dark with my baby boy eating away, me sobbing, thinking, "I HATE BREASTFEEDING!" But, it is slowly, but surely getting better! There is hope! But, I totally understand why very few people actually breastfeed for the recommended year. Hopefully, I can make it!

Another postpartum hurdle is my after baby body. I can't wait until I can start walking and exercising again, because this 5-month pregnant looking belly is NOT cute. I still have 20 lbs. to lose, which is a tad depressing, I really thought I would lose a lot more right after birth, but I guess losing 20 lbs in 2 weeks is pretty good. I have found a temporary solution I thought I would share with you ladies who are about to be new mommies or those who are struggling to dress their postpartum body. Two words = belly binder! My sister in law swears by belly binders. She says they help you get your flat belly back faster. I finally just got one the other day, and it definitely makes me look less pregnant in clothes! :) Here's some pictures with my belly binder on.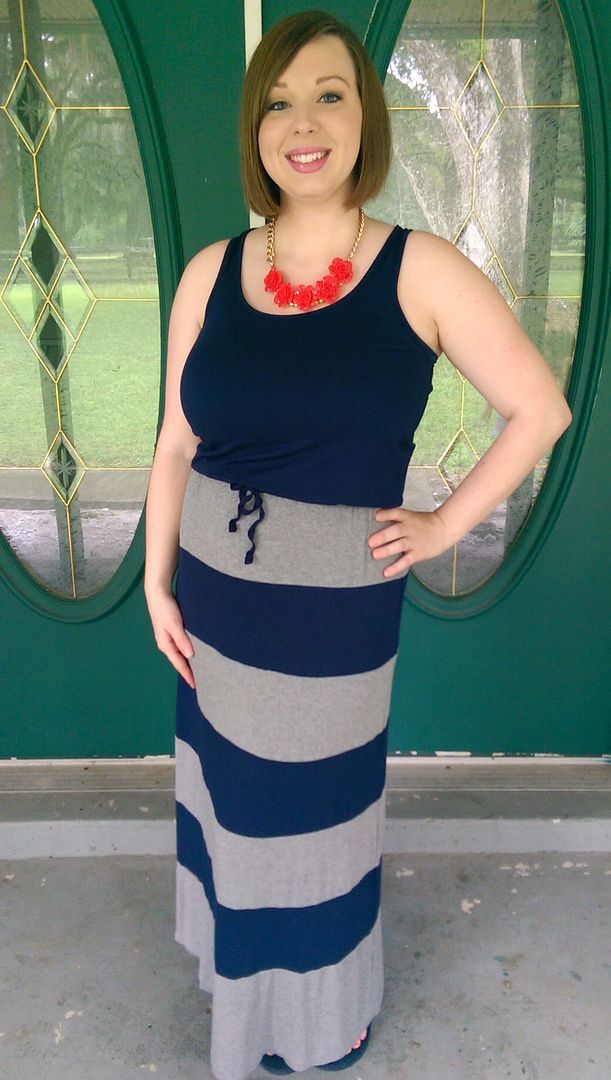 Maxi Dress: NY & Co.
Necklace: Rue 21
Flip flops: JCrew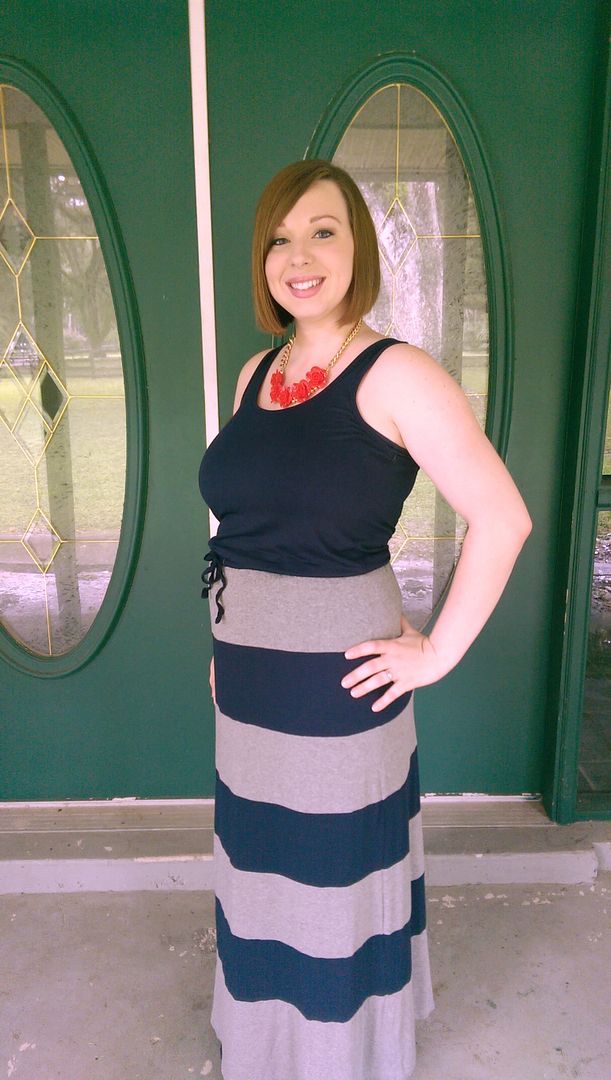 13 days postpartum