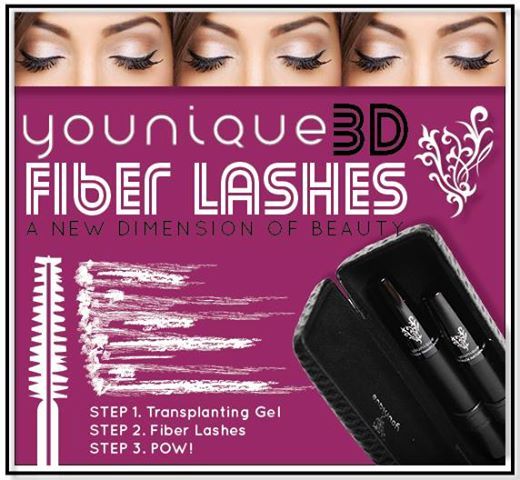 Ok, so if you haven't tried Younique's 3D Fiber Mascara yet...your life will be changed forever when you do! I bought some from my friend, because I kept hearing people talk about 3D Fiber mascara, and I wondered if it really worked. My first thought was that it was too expensive, but I kept hearing raving reviews. So, I decided to finally buy one. I immediately fell in love with it! I told everyone I knew! My mom said she can never go back to just wearing normal mascara, that she feels naked without it!
3D Fiber lash mascara is different than normal mascara. It comes in two tubes. One transplanting gel and then the other is natural fibers. One thing I love about Younique's products is that they are all natural.
How to apply the 3D Fiber Lashes:
1. To prepare your eyelashes for optimal results, first apply one thin coat of your own regular favorite mascara and let it dry.
2. Then, apply Moodstruck Transplanting Gel to your lashes.
3. Immediately following, and while the gel is still wet, apply the Moodstruck Natural Fibers. ****I've heard a couple of people tell me the fibers bother their eyes, that just means you put the fibers too close to your eye. Try only putting the fibers lightly on the ends of your lashes.****
4. Reapply the Transplanting Gel a second time to secure the natural fibers onto your lashes.
When I first tried the 3D fiber lashes, I make a video tutorial, so here it is :)
Here is my before and after, the top picture just has normal mascara, and the second picture has the 3D fiber lashes on!
Wanna try it out? You can order from my 10-day lash party
here
and you can also enter to win your own set valued at $29 below. The winner will be chosen Monday the 9th. Good luck!
a Rafflecopter giveaway