Over the past 2 in a half years of blogging, I've had so many people ask me why I don't do this or that, or tell me what they think I should do more of... The honest truth is, my blog is the way it is, because it's the way I am!! I'm not looking to change my personal style! I've had a couple of people ask me why I don't wear different style skirts...and really it's just because I wear what I like and what flatters me! :) I'm not trying to get anyone to be just like me, and I'm not trying to be just like anyone else. My purpose is to give encouragement and inspiration to those who need it!
God made us ALL different and unique. How boring would that be if everyone was the same? I love that God made me special, and He also made you special too! "I will praise thee; for I am fearfully and wonderfully made: marvellous are thy works; and that my soul knoweth right well." (Psalms 139:14) Some ladies do struggle with finding their own personal style, so I figured I would give some tips that I've learned.
1.
Know your own personal style.
The best way of figuring out your personal style is by what looking at the outfits you are drawn to, whether it's on Pinterest, in the mall, or even on MM. There are also fun
quizzes
online that might help you too, if you're really clueless. :) Also, you can tell by which stores you would shop at if you had $5000 to spend. My personal style is classy/preppy. If I had $5000, I would buy out Ann Taylor, JCrew, Banana Repulic, and Old Navy! Now there is a HUGE difference between style and fashion. Here's the best description I've read of the two:
Fashion and style are two different things but similar in so many ways. Fashion is about looks and image that are popular in a specific time and period. Style on the other hand, is more about expressing your individuality through clothes, and it doesn't have an expiration date. It's more REAL. Fashion gives you the inspiration, ideas and the nudge to dare - and style is what you make out of it.
I love that! It's so true, so many times, I'll take a super edgy and daring outfit, and tame it down to a more classic look that I would wear. It's all about taking inspiration and turning into "you!"
2.
Flatter your body shape.
If you don't know your body shape take this
quiz
, and then search styles that flatter your body type! I am very hourglass, so I have to keep my bust and bottom balanced. That is why you often see me in straight dresses and skirts. If I add any volume (a-line or pleated skirts) it automatically makes me look like I gained 15 lbs. So, I wear what flatters me. You will know what flatters you, just by trying on different styles. If you can't tell, then take an HONEST friend. They will tell you what flatters your body. If you have NO honest friends, then maybe you need to look into getting a personal stylist. I can do e-sessions via FaceTime or Skype, just check out my Styling Services
page
. I've helped a couple ladies out by helping them put some great outfits together!
3.
Make sure your inside is just as beautiful as your outside.
I know my blog is about fashion & style, but I always want to make sure our main focus is Jesus! Everything we do should be for His glory and His honor. If we only care about our outward appearance, then our "modesty" is all in vain. Let's make sure our hearts are always right with the Lord. Let's spend more time with God, in His Word, praying, seeking Him, then we do on our make-up and hair. I'm preaching to myself too! My friend Elizabeth, convicted me this New Year when her resolution was to spend more time with God and less time getting ready. If you are a busy momma like myself, you should spend time with God as you get ready! I spend my whole time getting ready listening to the Bible read out loud (YouVersion Bible app is the best) and I also spend time praising God in song as I get ready in the mornings!
Now here's the first full week of #modmodfabfebstyle outfits!
Day 2: Something Sequined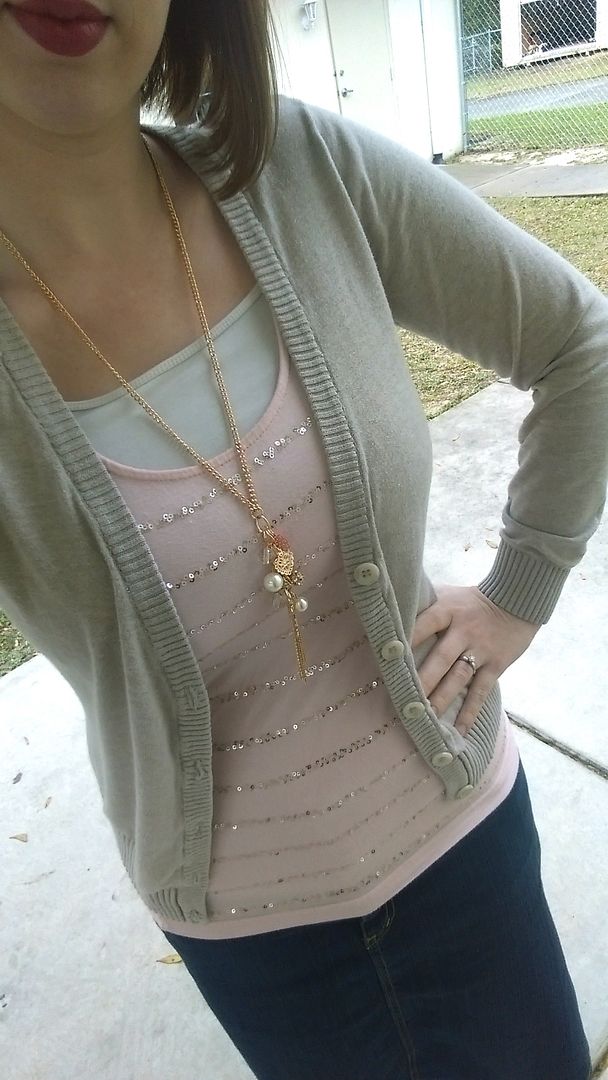 Skirt: Kosher Causal || Shirt: Forever 21 || Cardigan: H&M || Necklace: Charlotte Russe
Day 3: She's a Peach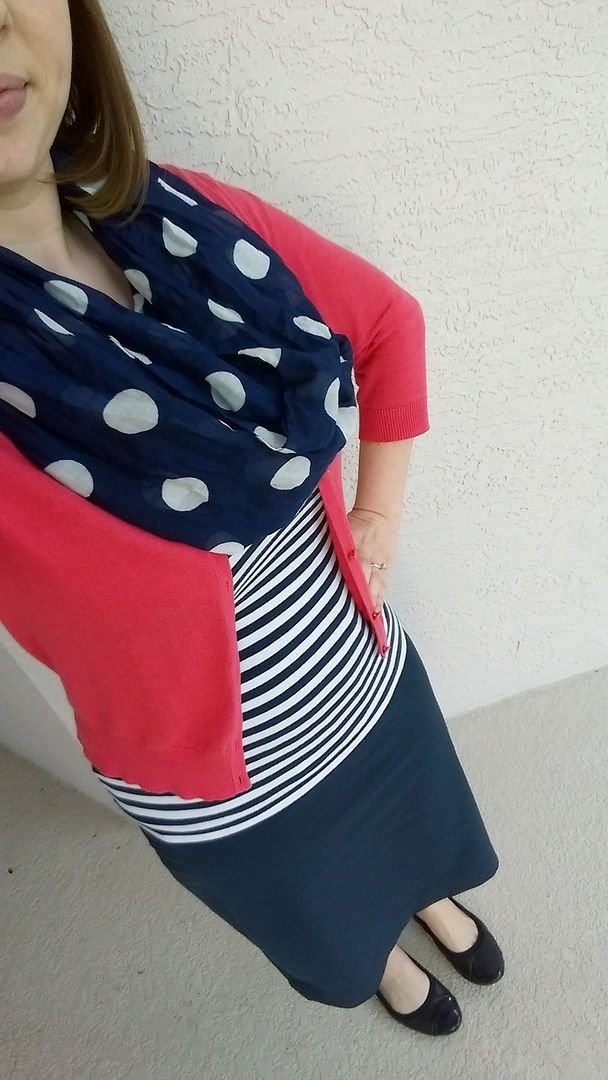 Skirt: Ann Taylor || Shirt: TJMaxx || Cardigan: Ross || Scarf: H&M
Day 4: Neutral & a Pop of Color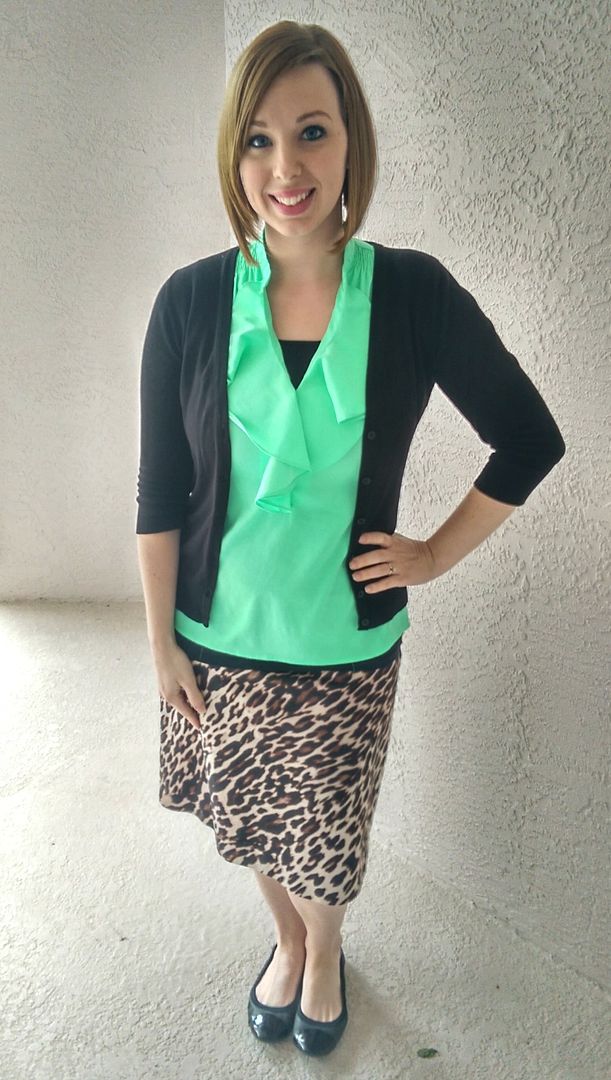 Skirt: JCPenney || Blouse: Ann Taylor || Cardigan: Nordstrom Rack
Day 5: Hyped for Stripes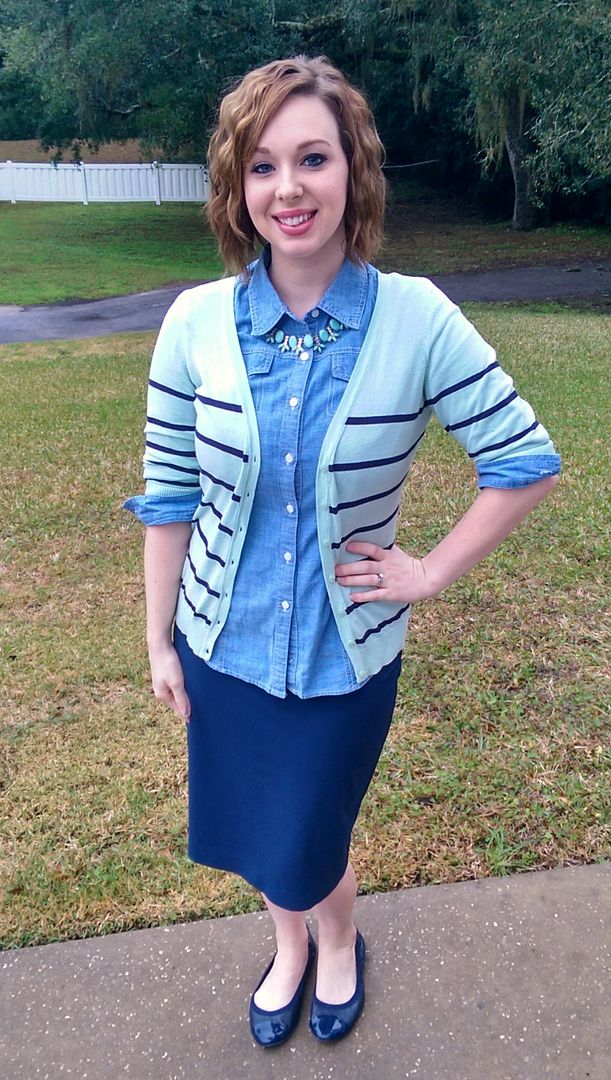 Skirt: Ann Taylor || Chambray: Marshalls || Cardigan: The Limited || Necklace: Charlotte Russe
Day 6: Paired with Pastels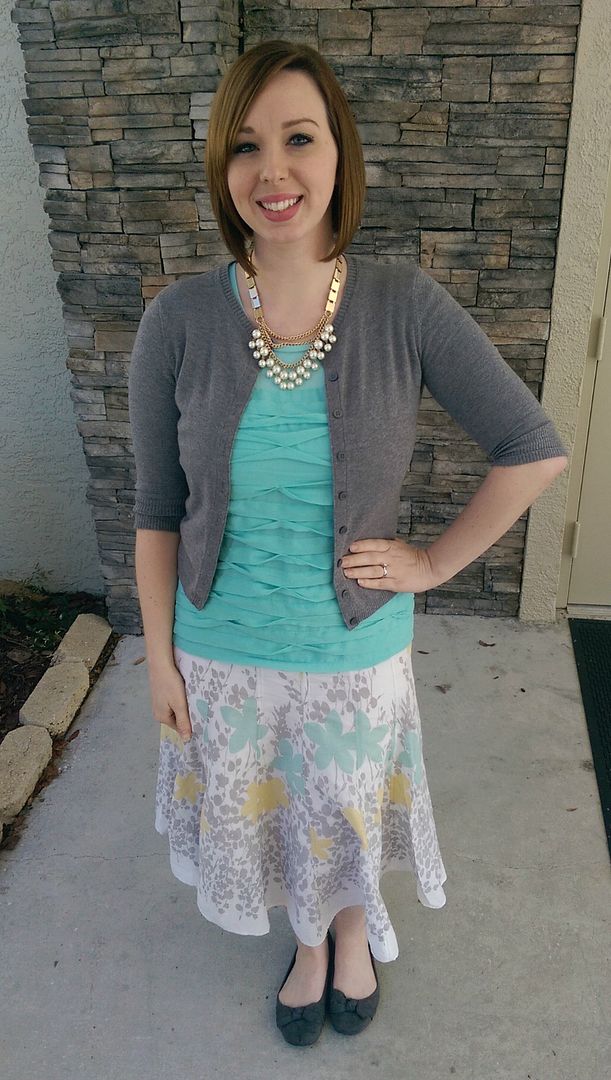 Skirt: Bealls || Blouse: Ann Taylor || Cardigan: Goodwill || Necklace: Bealls Outlet
Day 7: Stay @ Home Style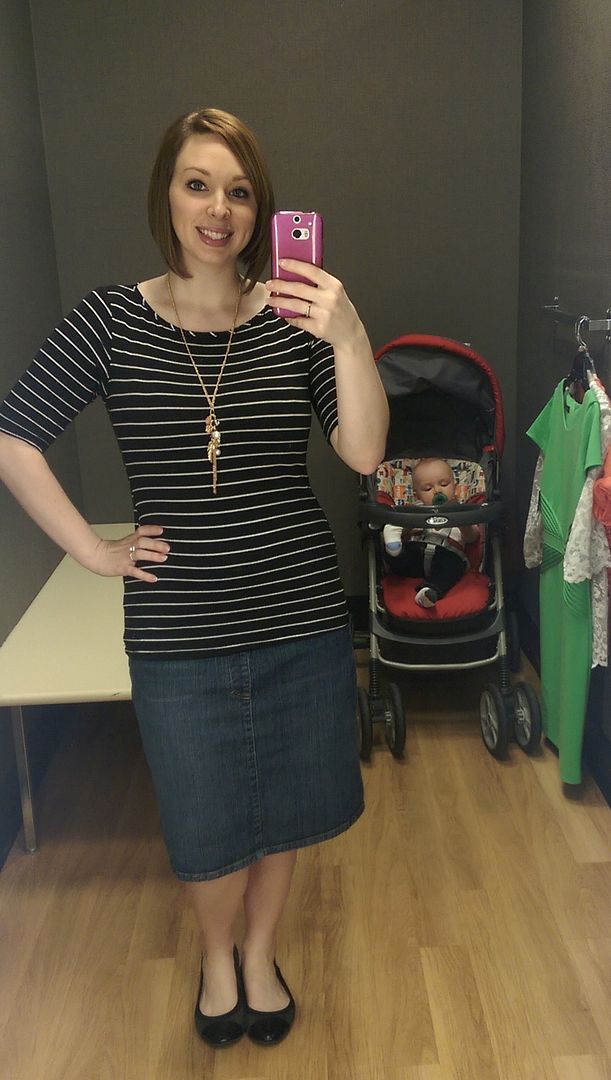 Skirt: Target || Shirt: TJMaxx || Necklace: Charlotte Russe
Day 8 ((Today)): Have to Have Heels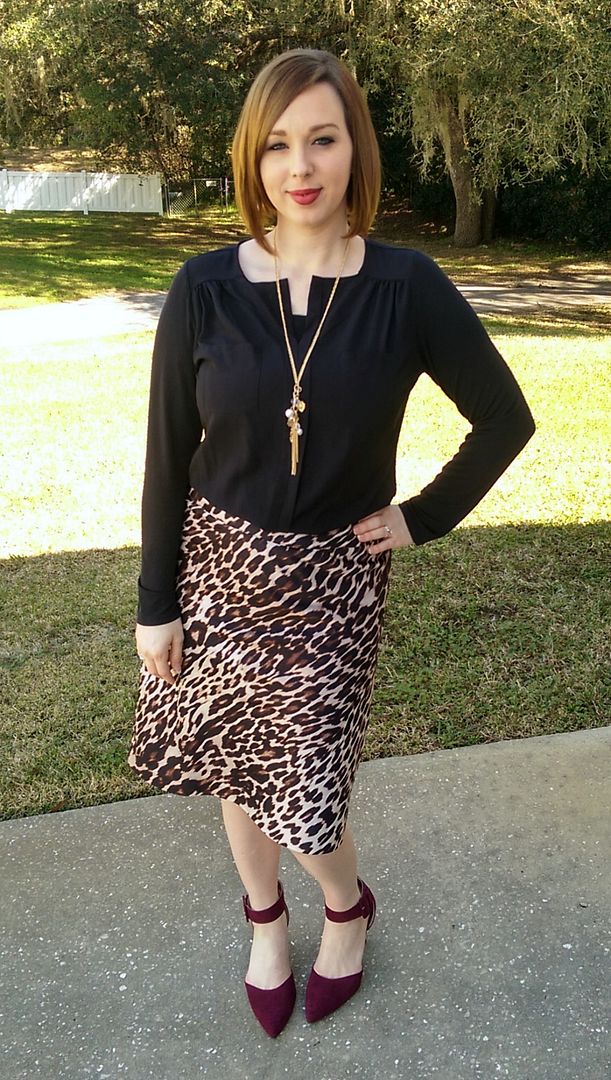 If you haven't entered into the giveaway for a free Younique 3D Fiber Lash Mascara, enter here! God Bless ♥