We had a guest preacher 2 weeks ago and he preached on walking in the Spirit vs. walking in the flesh. I was super convicted and I decided to get serious about asking the Holy Spirit to guide me throughout my day. I have to be very careful to not get in the flesh as I teach. My first and most important goal as a Christian School teacher is to teach my students to love and serve God. As a result of teaching them, I pray they receive good character, ethics, and respect, then of course learn their Math!

I've been starting my classes with a Bible verse, devotion, and prayer for the first 10 minutes, and they love it. I get to share with them what I got from the Bible that morning, and teach them what I wish I knew when I was their age. One thing I taught them last week was about I Timothy 6:10, "For the love of money is the root of all evil: which while some coveted after, they have erred from the faith, and pierced themselves through with many sorrows."
This verse really spoke to me and I wanted to help my students understand that the LOVE of money is not going to bring joy and happiness, like every one thinks it will. I started out by telling them, there is nothing wrong with having money, of course, we have to have money to live, but it's the LOVE and obsession of having money that is the root of evil. Most high schooler's goals are to go to college and get a good-paying job. I told them that was one time my goal too, until I surrendered my dreams and asked God to show me what HE wanted me to do. When I was 15, He called me to go into full time Christian service.

I'm not so naive to think that God wants all my students to be in full time ministry, but I do believe God wants everyone to serve Him with their lives. I told them, "If God is calling you to be a nurse, then go to PCC, where the nursing program is Biblically based and you would be saturated with the Bible and godly friends. If God is calling you to be a lawyer, then go be the best Christian lawyer you can be, like David Gibbs. There is nothing wrong with having a secular job, as long as your life is revolved around furthering the Gospel and you are in the center of His will."
When I was 15, I understood what Jesus did for me on the cross, and I couldn't help but give my life to Him, since He gave his life for mine. I pray that who ever is reading this, that first of all you know Jesus as your Savior, (if you don't read my faith section), and second of all that you will give God control in your life. If you trust Him with your soul, I promise you can trust Him with your life!
With these morning devotions being my first priority lately, I've been keeping my outfits very simple and easy. The title of this blog post is K.I.S.S. standing for keep it simple sweetie! When you don't feel like being super creative and trendy, you don't have to fall back on a jean skirt, sneakers, and a big t-shirt! You can still look classy! Here's some of my super quick and simple outfits from this week!
Simple Outfit #1:
All you need is a colored skirt, chambray shirt, and any statement necklace, & BOOM, easy, classy outfit complete!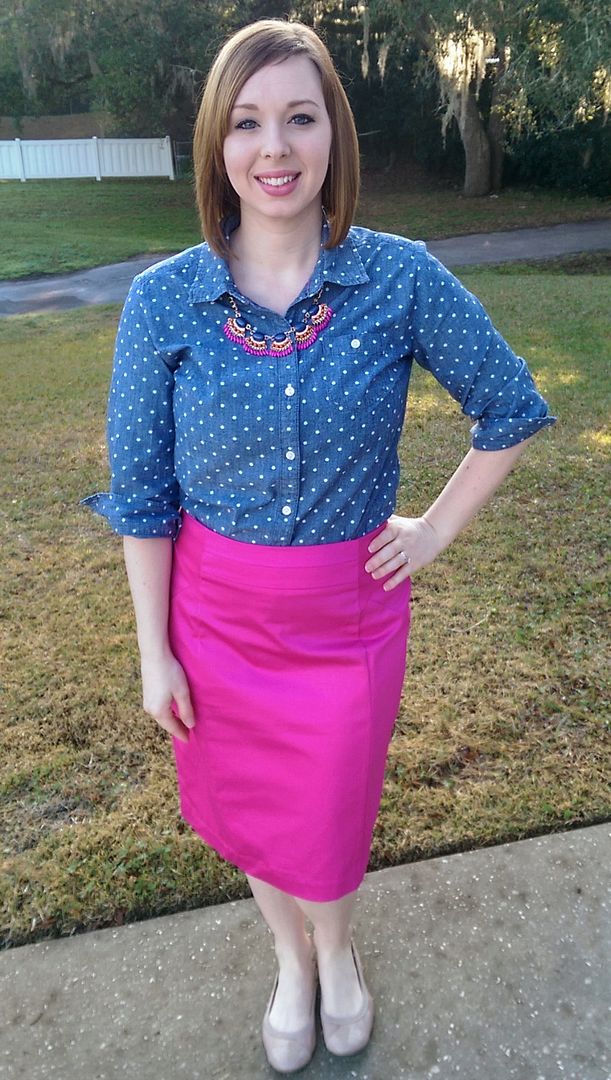 Simple Outfit #2:
All you need is a patterned skirt, a neutral camisole/blouse, and a colored cardigan, & BOOM, easy, simple outfit complete!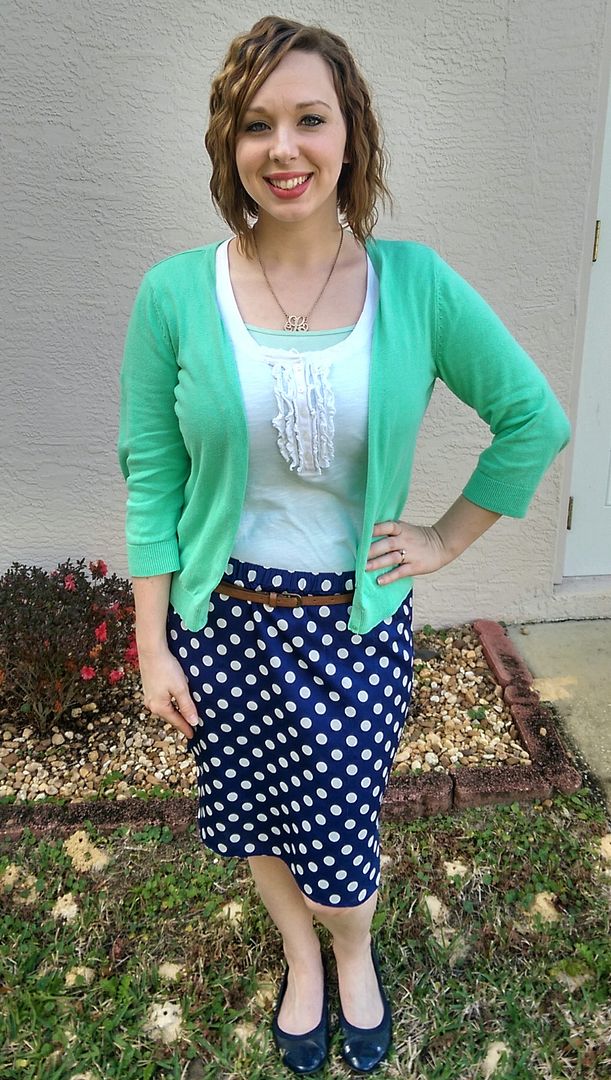 Simple Outfit #3:
All you need is a striped skirt, chambray shirt, and a necklace, & BOOM, chic, comfortable outfit complete!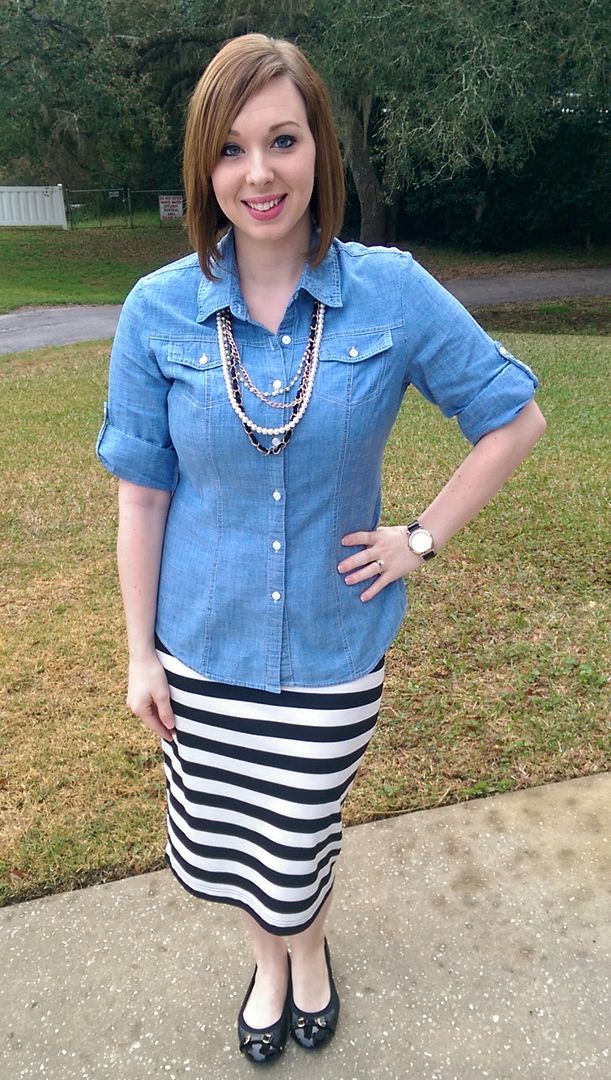 Simple Outfit #4:
All you need is a patterned shirt, colored cardigan, and a black skirt, & BOOM, classy, easy outfit complete!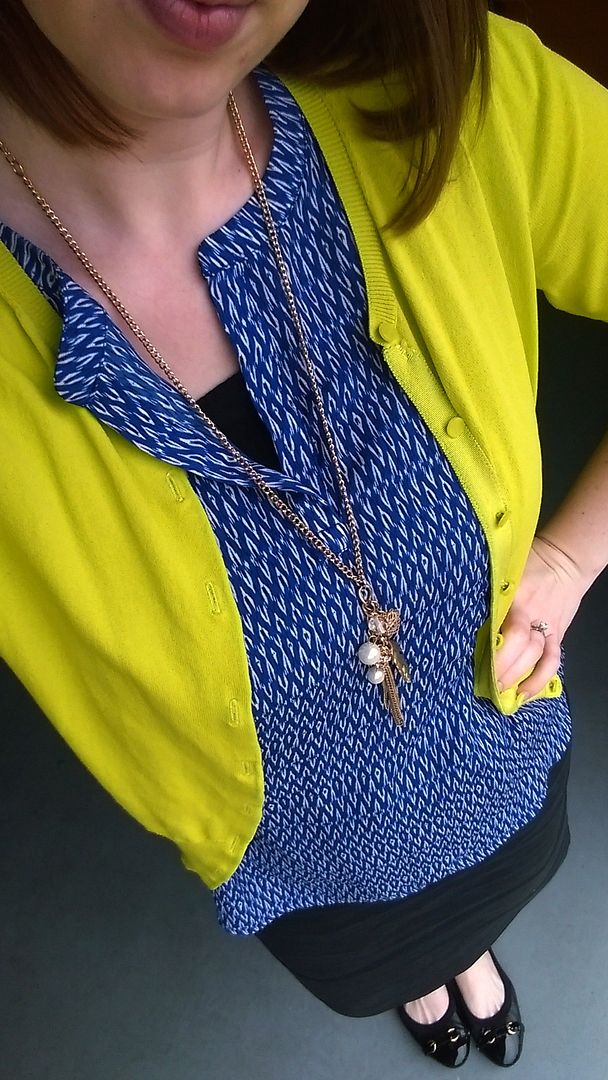 Simple Outfit #5:
This is a quick and easy Sunday outfit. All you need is a simple dress, necklace, and heels & BOOM, Sunday, classy outfit complete!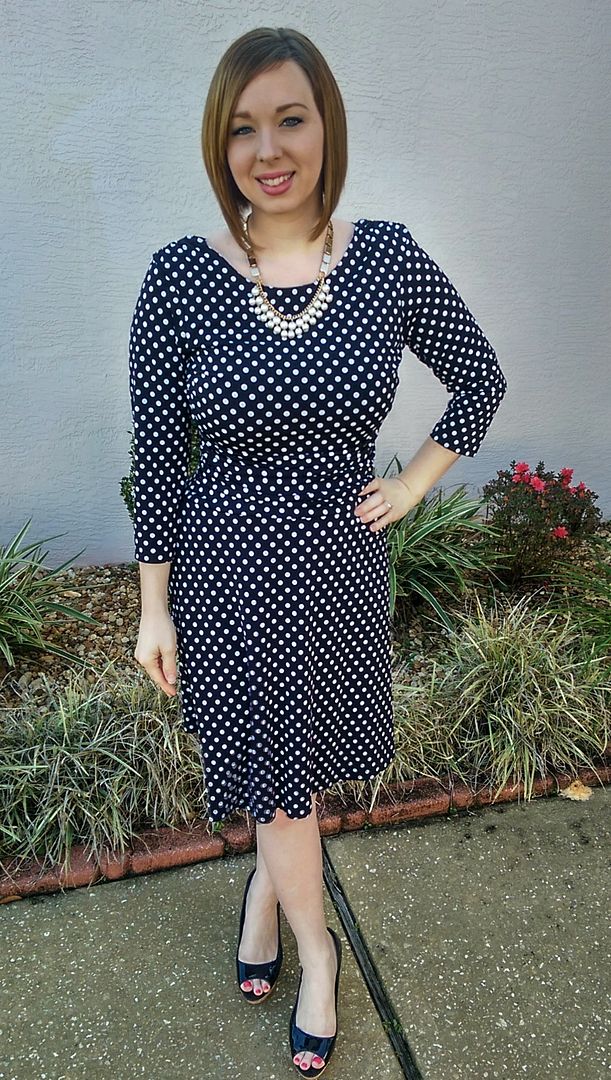 I hope these work and church, simple outfits help you to be able to get dressed on a late morning and still look classy! Don't forget to use my promo code modernmodestyxoxo to get one free month of Rocksbox! Read last week's post for more info!
Here's Luke waving hello to you all!
Have a great week, and God Bless! ♥