I've done a post about men's style one time before, and it was a hit, so I thought I would take another post and help a brother out! ;)
I know MOST of my readers are ladies, so this will help you, HELP (not nag or pester) the man in your life. Some of you might have very stylish husbands by their own doing, yay for you! I have a very style-conscious husband. (I'm glad, because I couldn't handle being responsible for dressing him too!) So, this post is more for the ladies who have husbands who let them do their shopping for them, or pick out their clothes for them.
First of all, most of the time we only think style is for ladies. But, that is not true at all! It is not feminine at all for men to be well-dressed and sharp! Especially for men who are in influential positions such as Preachers, doctors, lawyers, businessmen, etc. Sharp, well-fitting clothing encourages others to take you more seriously. My husband is a teacher and a preacher, so he has to dress sharp every day of the week! I am going to use him as my model! (A handsome one in my opinion, too! ;) )
I'm going to give some tips I've learned from my husband, to help you and your husband understand the basics of a sharp man's wardrobe!
1.
Every man needs at least one classic suit.
The two most classic color suits to have is navy blue and charcoal gray. My husband actually only has 3 suits he wears on a regular basis. He owns dark navy, khaki, and gray suits. When you are buying a suit, make sure it is tailored to fit your husband's body. I've never seen a suit look sharp right off a rack! My favorite suit on my husband is his navy suit!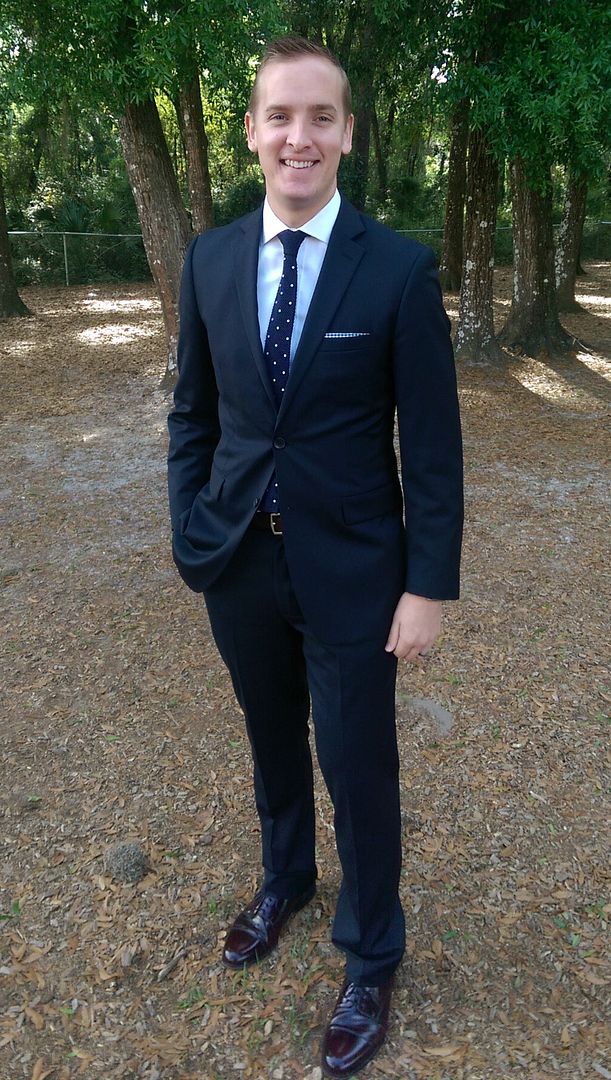 2.
Every man needs white and light blue dress shirts.
The backbone for any man's dress wardrobe, is white and light blue dress shirts. My mom teases my husband that all of his shirts are blue, white, or white with blue. But, he has those colors because that's what's classic. We both follow the same principle in not buying clothes that will go out of style. My husband just recently found out about
Natty Shirts
. They are VERY affordable custom made shirts. I am very excited to know I can get him shirts made and not worry about the fit anymore! Right now, Natty Shirts is having free shipping and a deal when you buy 5 shirts, you get the 6th free! Here's my husband sporting his new Natty Shirt.
3.
Every man needs classic ties.
Throw out those cheesy ties! The Christian bookstore is not the place to buy your ties! Classic ties are NOT that expensive. My husband gets most of his ties from TJMaxx, Marshalls, or Ross. They always have brand-named ties for $9.99-$14.99. I love this polka dot tie, my husband is wearing.
4.
Every man needs sharp casual clothes.
Even when you're not in the office or in church, your clothes still speak for you. Instead of wearing light denim, wear dark-wash denim, instead of wearing t-shirts, wear polo shirts. Instead of wearing tennis shoes, wear nice causal shoes. Here's an example of a sharp casual look for a man.
There are many other tips I could share, but I wanted to keep it pretty simple. Ladies, if you are not dressing classy and sharp yourself, don't expect your husband to care about his appearance either! I hope this helped a little bit! I like to throw a random men's post in here every once in a while! :)
Have a great day! God Bless ♥