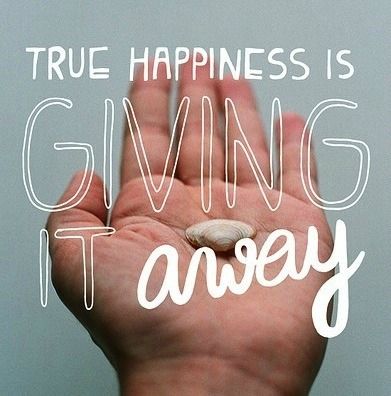 This past week I gave a devotion to my classes on Acts 20:35,

"I have shewed you all things, how that so labouring ye ought to support the weak, and to remember the words of the Lord Jesus, how he said, It is more blessed to give than to receive."

I gave them many examples of people I knew personally that are "givers" and how they are the happiest people I know. I've had many influential people in my life teach me about giving. I don't even think they were necessarily meaning to teach me, but I just learned by their example. I want to share some of the things I've learned from watching some wonderful givers over the past couple of years.
My Pastor's wife, while we lived in Oregon, was the greatest giver I've ever seen. If you would give her a gift card or money, she would always give it away. She "got" what Jesus was talking about when he said, "It is more blessed to give than receive." She spoke at a Ladies' Conference one time about how the Holy Spirit always lays on her heart, people that she ought to give things to.

Over the past couple of years, since we've moved away I have had many "Mrs. Vicky" moments. I had one this morning, which actually led me to blog about this subject. One of our assistant Pastors wives has been saving up for some 3D Fiber Lash mascara, and she was mentioning to me the other day about how she almost has all the money she needs to buy it. This morning as I was putting on my 3D Fiber lashes, the Holy Spirit told me, you need to give her your brand new, extra 3D fiber lashes you have sitting on your kitchen counter. I kind of fought the Holy Spirit for a couple of minutes, thinking, "She almost has the money saved," and "I will need some when mine runs out." But, I knew the Holy Spirit laid it on my heart to give it to her. I got so much joy out of knowing I was a blessing to her.
Here's some ways you can find joy out of giving:
1.
Give the free gift of salvation
. The most important gift you can give anyone is to share what Jesus did for them on the Cross. It doesn't cost you anything. When I was a teenager, I remember having a really bad day, and calling my youth pastor to tell him, and he told me, "Go win someone to the Lord, it will make your day 100% better." You know what? He was right. I went to a park, and got to win a couple of teenagers to the Lord, and instantly my small problems went away and I had a big smile on my face!
2.
Give the gift of encouragement.
Many people forget just how easy it is to make someone's day. Usually all it takes is a simple note of encouragement. Especially an anonymous note. At our church, we have a secret sisters ministry, where we leave anonymous cards and gifts for our secret sister. It is such a blessing to be encouraged!
3.
Give the gift of hospitality.
Mrs. Vicky taught me a lot about being hospitable. She always had some one new over her house every Sunday after church. She decorated her table so beautifully and just a had a way of making everyone feel so welcome and loved. If you are a great cook, try inviting some visitors or new church members over your house and invest some time in helping them grow in Christ.
4.
Give the gift of time.
Last Monday, I had SO many things to do. I needed to make a grocery list, go to the grocery store, train for my 5K, and cook dinner. But, when we got off work, my husband said let's go visit some ladies from our church in the nursing home. My first thought was, "Ugh, I have so much to do!" But, I said, "Ok! Let's go!" I'm so glad we went! Both ladies were SO happy and tickled to death that we brought Luke to visit them. Both ladies said over and over, how thankful they were we came by. When we left, I had so much joy bursting in my heart that we gave our time to them, rather than do the things I selfishly needed to do. Giving your time is absolutely free, but it usually shows more love than a tangible gift!
5.
Give sacrificially to those who will never give back to you.
My mom is such a big-hearted giver. She puts on a BIG 5K every year to raise funds for abused children. She organizes this 5K for free on her own time and gives the donation to a center for these children. She will greatly be rewarded in heaven for how many lives she has blessed. My husband is also a great giver. One time there was a missionary preaching at our church, and he was tall and had big feet just like my husband. After church, I saw my husband, take off his $75 favorite, brand-new dress shoes and give them to this missionary. I love that I am surrounded by Godly givers!
I found this poem and I loved it.
"Give out of love, not obligation.
Give when it's least expected.
Give without strings attached.
Give from your heart.
Give to show you care.
Give something that takes personal sacrifice.
Give to make a difference.
Give without keeping score.
Give for no reason at all.
Give a little if you can't give a lot.
Give without attracting attention to yourself.
Give without being asked.
Give of your experience.
Give your attention.
Give to those who need it most.
Give of yourself.
Give."
I pray that this blesses and encourages someone today. I know as a part of a very "selfish" generation, it takes A LOT of faith and obedience to give when it's not easy. I pray that you trust & obey, because all the joy and happiness I have in my life is from loving and giving to others!
Here's the week of outfits from #modmodspringstyle!
Day 7: Make a Statement
Day 8: Must Have Make-up
Day 9: Style That Chambray
Day 10: Fabulous Flats
Day 11: Comfy Casual
This is us after finishing my first 5K! I finished 9th in my age group and reached my goal of 39:30 minutes. P.S. I love my Kosher Casual running skirt!
Today: Pretty Peplum
P.S. I am super in love with my new Rocksbox necklace (as you see pictured above twice!) If you want a free month of Rocksbox, use my code: modernmodestyxoxo! Hope you ladies have a great week, be a giver! God bless ♥