Here is the second post of the Fall Color Combo series! I am so glad Elizabeth agreed to do a guest post for me! We are both teachers, and have very similar styles! I love EVERYTHING she wears, and she is also as beautiful inside as she is on the outside! Elizabeth's etsy shop is amazing as well! Check out her beautiful creations! You can also follow her on instagram @ejancy
________________________________________________________________
Fall is quickly approaching, and with it, some of my favorite things. The sound of leaves crunching underfoot, crisp autumn weather, pumpkin spice everything, and of course fall fashion. This is definitely my favorite time of year to dress for. Just think about it, we now get to dust off our favorite boots, pull our chunky sweaters out of storage, and enjoy pairing new outfits from some of our old favorites (as well as shop for a few new classic pieces to add to our wardrobes). I wanted to share a few of my favorite color combinations, as well as give a few pointers about layering your fall looks.

My first outfit is extremely simple and classic. I paired a neutral sweater with my burgundy pencil skirt, mary jane oxford heels, a leopard scarf, and a cognac colored leather purse. A burgundy skirt and a cognac bag are such versatile items, sure to be used many times from September through November. This bag is from Cato, but is almost an exact duplicate for my black Michael Kors, at just a fraction of the price.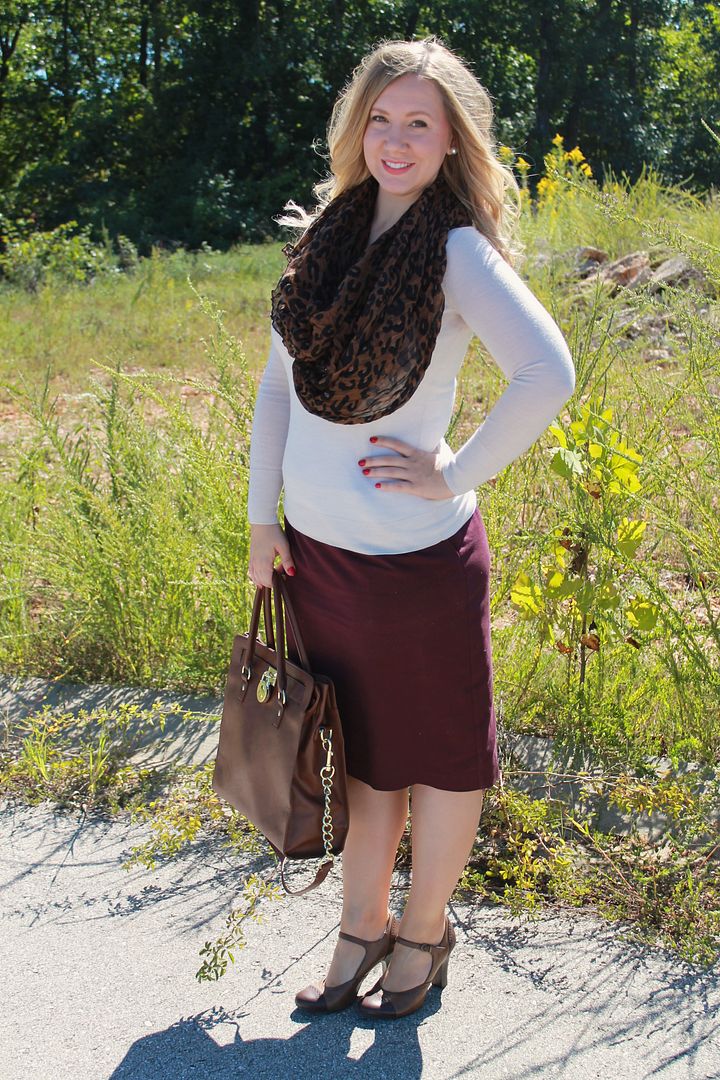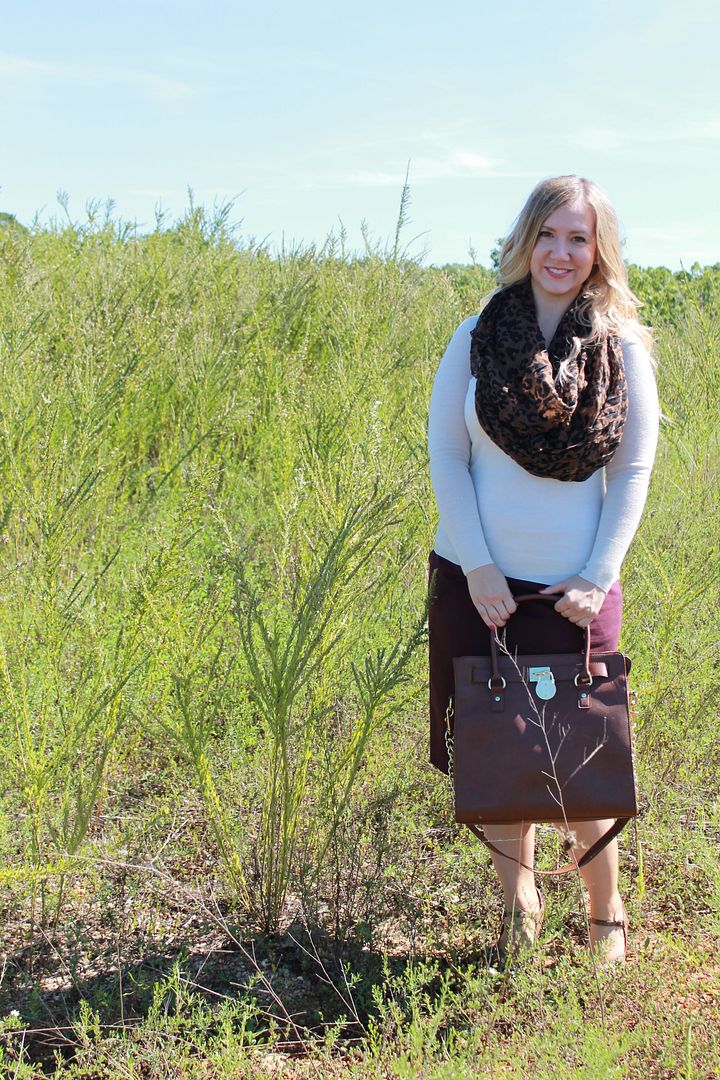 My scarf is my layered item, and completes the outfit. It is very important to make sure your scarves are long enough. Often infinity scarves are shorter, and add too much bulk to the upper chest area. I cheated a bit with mine, and tied two corners together to make a faux infinity. I simply tucked the ends and the knot under, and it ended up being the perfect length and fullness.


This next outfit was slightly outside of my comfort zone, but the more I looked at it, the more I loved it. I paired a twirly pleated chiffon skirt with my JCrew scottie sweater and a red plaid shirt. The outfit was completed with an interesting pop, striped and glittery shoes that I painted myself. I could easily change the whole "flair" of the outfit with a more conservative black or red shoe. However, I was trying to think outside of the box.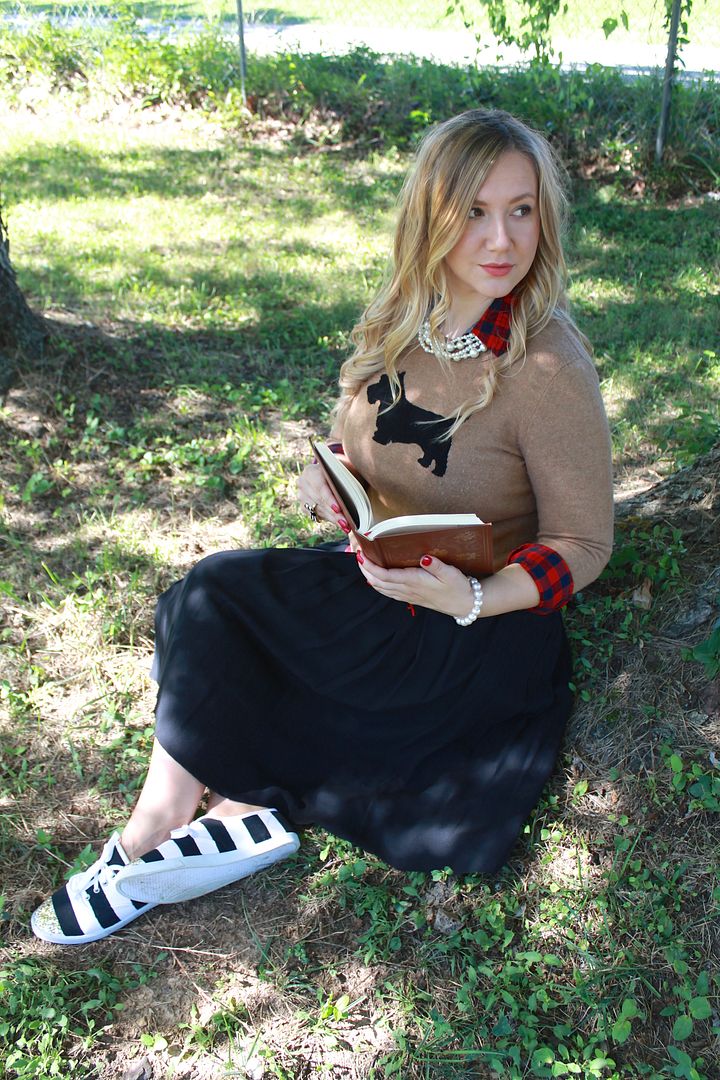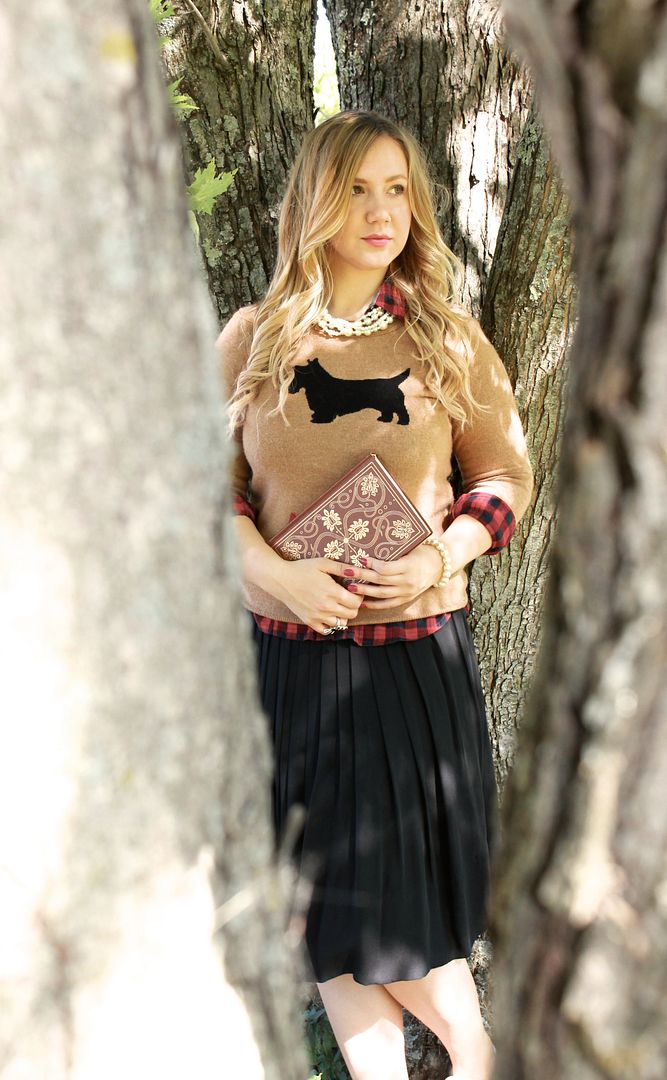 My layered item in this outfit is of course my sweater and plaid shirt. I love how preppy plaid is under a sweater, and that it brings an interesting pop of color, texture and pattern. I'll let you in on a little trick I learned: I wear a tank top between the plaid shirt and sweater, to make the lines of the sweater smoother. That way the buttons aren't as obvious under the sweater, and it lies better. Don't be afraid to experiment with this look. Pinterest has many outfit ideas along these lines.

My final outfit is a casual look, demonstrating how to make a statement with fall accessories. I paired a simple black and white checked button down shirt with a denim skirt and boots, and added my new red plaid blanket scarf and flowered head warmer.

Blanket scarves are a huge trend right now, and as a bonus are extremely warm. I am still experimenting with how to wear them, but opted for a simple look so you could see the rest of my outfit. I love how the pattern in the scarf "pops" against the plaid.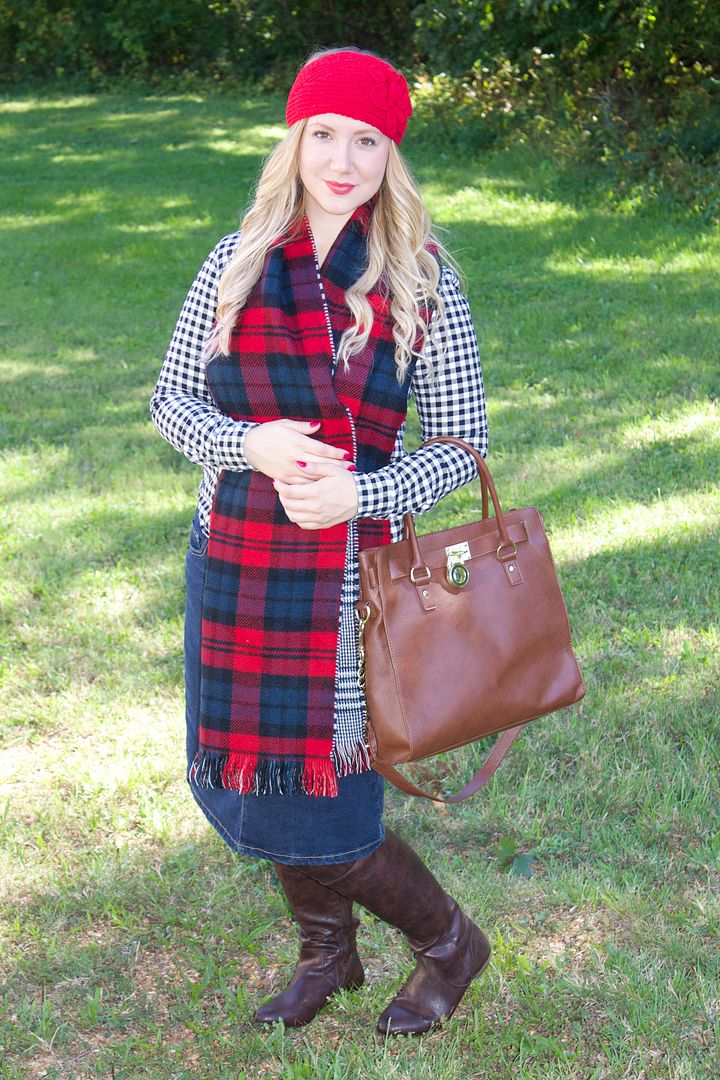 Although we should be thankful year round, Fall seems to be the time of year that we focus the most on it. We all have so much to be thankful for, and I am especially thankful for you dear ladies and your stand for the Lord in your desire to dress modestly. Never before have I met such a large group of ladies with such sweet and encouraging dispositions, fashion sense, and love for the Lord. I truly cherish all of the friendships I have made, and look forward to many more.
______________________________________________________________________________
Weren't her outfits to die for!!??! Now you know why I asked her to do another guest post for me! She is such a fashionista! Stay tuned for next week, when Melissa shares her fall favorites!