Your guest writer today is my dear friend, Tara! :) Tara and I went to college together and even worked together after classes at Americall. (Telemarketing company) We have a lot of fun together, but one thing I love about Tara besides her handwriting ;) (seriously, it's the best) is her creative, fun personality. Her personality definitely shows through her clothes!
_______________________________________________________________
Hello, Ladies! First off I want to thank, Lauren for letting me share my thoughts and ideas on outfit planning on her blog. It's been over a year since I first joined MM, and it has been so much fun to watch it grow! There are so many of you that I feel like are my friends, yet we've never met.

I am a newlywed that lives just South of Dallas in the little town of Red Oak, Texas. I was raised in NorthWest Indiana. I went to Hyles Anderson College where I met Lauren. We were neighbors one summer, and we worked Americall together. Yes, I was a telelmarketer for 6 years. Don't hate; it paid my college bill. After college I moved to Saginaw, Michigan to teach, and after a year and a half I moved to Tampa, Florida to teach. I met my hubs there. My husband and I run the bus ministry and Jr. Church at my church. I certainly love serving the Lord!!

Let me start the fashion part of this blog post by ​saying that I am plus size. The most important thing a plus size girl can wear is Spanx or something similar. This picture took a lot of guts to post on the world wide web for everyone to see, but it's important! On the left is me as free as a bird, and on the right is with my Spanx on. I'm not sucking in or standing at an angle that hopefully takes 15 pounds off me. The proper underagarments just matter so much!! Do I always wear mine? Nope. Should I? Most definitely!!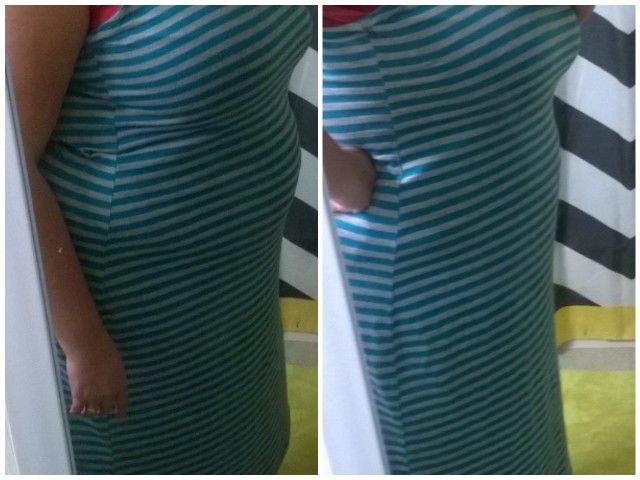 I love to sew. I don't consider myself good at in the least. If my garment looks okay from the outside; don't you dare look on the inside. I mean who sees the inside of your seams anyway?? ;)
My favorite alteration is making skirts from pants. This black skirt used to be pants. I don't have a pattern. I just pin pieces and top stitch. It's so easy!! You can watch a You Tube tutorial if you don't know how to do it.

If you went to a Christian college; you more than likely had a "dress check skirt" for that moment you went running back to your room to change in 15 seconds. It was probably a solid color and huge in all directions and one that couldn't be tear stained from embarrassment as you walked into class or Chapel late. You know all those people were looking at you like, "Yep, she failed dress check." So glad college is over!! I took my dress check skirt and made it into a pencil skirt. It's a bit tight at the waist, but I think I can take the top seam out and it will be fine. I took out nearly 10 inches of fabric by the knees and bottom!!! I also shortened it. This took maybe 5 minutes. I used one of my existing skirts for a pattern and drew on the skirt I was altering with a pen. I'm keeping it real with the wrinkles.
Another quick alteration is with scarves, I've found some great scarves at the Dollar Tree (my favorite store)! The only bad part was the length. If I wrapped one around my neck; I could totally pull off the Frosty the Snowman look. That's not the exact look I'm going for. When I bought this scarf I bought a white with blue stars and a blue with white stars; I didn't want to sew them because I mixed the prints. All I did was safety pin two together, and WaLa a big, nice scarf. If you can't sew; I know you can use a safety pin! The pins are very easy to hide in the folds of the scarf.
Another quick alteration is this skirt. It was a maxi dress that was too short. I'm 5 foot 10, so you tall ladies feel my pain. The top of the dress was two triangles. Um, my girls are way to big to be under a little triangle of fabric. I cut off the top just above the waistband, and added a dart. I now had a maxi skirt that touches the floor. WooHoo!
When I was getting ready for this blog post I pulled out everything I thought I could use. I have a California King bed, and it was overflowing!! You never know when inspiration will strike!! I had a little Michael Buble playing and my Pinterest app open. :) My husband was thrilled to find the bed like this when he came home from a long day of work... Totally thrilled I tell ya!! ;)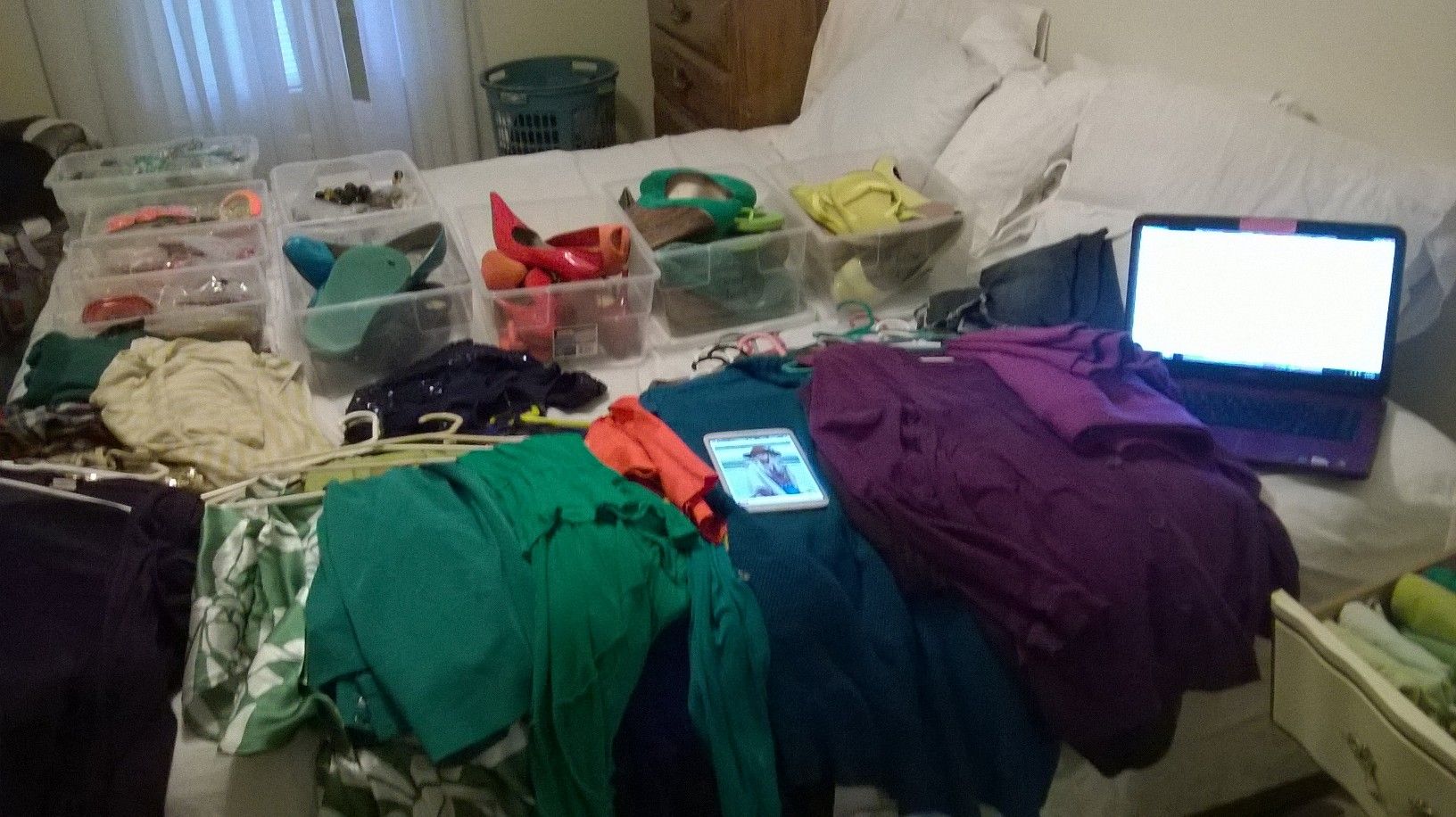 My favorite place to find fashion inspiration is Pinterest, duh!! I am an addict, completely and thouroughly, an absolute addict. Here are three of my Pinspired outfits.
This green skirt pictured below was a skirt I made from pants. It is my absolute favorite piece in my wardrobe!!
Don't feel captive to find the exact outfit from Pinterest in your closet. I took the same brown tank/mustard cardigan mix and paired it with more skirts here. All of these options go. Don't be afraid to go outside of the box!!
My favorite thing about fall is layering!! I love to layer button ups under sweaters. This is a great way to pattern mix too! Here's my take on layering. The picture on the left is pink scarf on top of the vest!
The purple vest came attached with white Oxford style sleeves and collar. I cut them out to make a much more versatile piece.
The day coloring blocking goes out of style will be the worst day of my life... :'(
Another favorite outfit inspiration of mine is to pull one of my scarves of many colors and make an outfit out of it. I've worn the scarf below (far right) with so many different outfits!! This is my favorite green skirt, a burnt orange tank, and a brown shrug. You can pull yellow and navy from the scarf too. I never pay more than $5 a scarf. I buy most of mine from Charlotte Russe.
I hope I've helped you all a little bit!! My nerves are on edge putting this blog post out there. Thank you to each lady that is nervous to post, but does it anyways. You are an inspiration to me!! Thank you for your positivity! I've been overwhelmed by the love and support you ladies have shown your Admins that past few days!! It is so sweet of you!! Best of luck on winning this weeks giveaway!!!

Much Love,
Tara Sumner Pruett
____________________________________________________
Yay! I love that Tara talked about Spanx! I am a big believer in proper undergarments as well! They can instantly take off 15 lbs! :) Hope you enjoyed! Next week come back and see Pong's favorite fall combos!