A lot of women have the mind set that they can't dress nice, because they aren't rich. Well, I have news for you honey..that's not true at ALL. My husband and I are both Christian School teachers...let's just say we are definitely not rolling in the dough. The average public school teacher makes $47,855 in Florida, my husband and I together don't even make close to that! (Not complaining, just trying to paint a picture of our finances!) Believe me, we are NOT in this profession for the money, we just love serving God. But, with that being said, I don't ever want to look as broke as I am! :)
I know the rut women fall into after having kids and getting comfortable in their marriage. They stop trying to fix themselves up, because they don't want to be selfish. I promise you, that is a bad decision to make. Don't let yourself go, and blame it on being a mom. There are MANY moms that are still fashionable, in shape, and not rich. Don't make excuses for yourself. You just have to have a game plan! I know this might hurt to hear, but I love you, and I'm trying to help some of you! Your husbands and kids will appreciate you taking care of yourself! In two weeks, I'm going to share with you the secret of losing weight. Hopefully that will also help some ladies struggling with this area.
The key to having a great wardrobe for a small price is knowing where to shop and what to shop for. Here's some tips to help you become fashionable & frugal:
1.
Know what you need before you go shopping.
Unless you have the money to blow, don't just wander around "shopping." If you want to be frugal, you only need to shop when you
need
something. Next week, I will do a post on essential items you should have in your closet. When I'm shopping I'm always looking for specific items. If I don't find that item, I don't just buy other random things, I leave and try again another day.
2.
Go to the thrift stores first.
Before you head to the mall, always look at Goodwill or a consignment shop first! I find SO many essential pieces from Goodwill. You can't beat their prices. But, you need to know what you're looking for at thrift stores or you can come out looking frumpy and not classy.
3.
Invest in classic pieces.
I wrote a blog
post
on it last year, and it gives you tips on what to buy when you're out shopping. For example, I wear my navy skirt at least once or twice every 2 weeks. A navy skirt is an investment, because I will wear it A LOT. So to me, $20 for a classic, navy skirt is worth it. (If you can't find one thrifted!) I get MOST of my pencil skirts from JCPenney.
4.
Buy cheap trendy jewelry & accessories.
Right now the big craze is a plaid blanket scarf from Zara, it's $69...Ha. I wouldn't spend $70 on a scarf if my life depended on it, especially on a trendy piece like that! But, I would buy a replica one from eBay for $12.99! :) You just have to shop smart. I bought 2 statement necklaces from Charlotte Russe yesterday for $10! I won't spend that much on trendy statement necklaces, because they go out of style so quick! You can also find cheap, classic jewelry online, like these gorgeous cubic zirconia
studs
for $6.
5.
Buy remixable pieces
I don't buy a skirt or shirt, unless I can think of at least 3 or 4 different outfits I can wear with it off the top of my head. That's why I tend to buy solids or stripes a lot! :)
There's nothing wrong with being stylish & modern along with our modest outfits. You will draw more people to Christ if you look classy and fashionable. No one wants to come to your church if they are trendy and everyone in the church is frumpy looking! That is a big turn-off to the world! As long as we are modest, I don't see why you wouldn't want to be fashionable too!
With this post being about being frugal and fashionable, I decided to wear an outfit completely from Goodwill!
I found this peplum top at Goodwill yesterday, and I got this black skirt at Goodwill last year, and my nude heels I found at Goodwill two years ago!
Tomorrow's challenge is Mani Monday, so if you're following the challenge, get ready to show off your nails!! Here's some inspiration.
Here's some of my outfits from the past week challenges! (Bright color combo, make a statement, favorite handbag)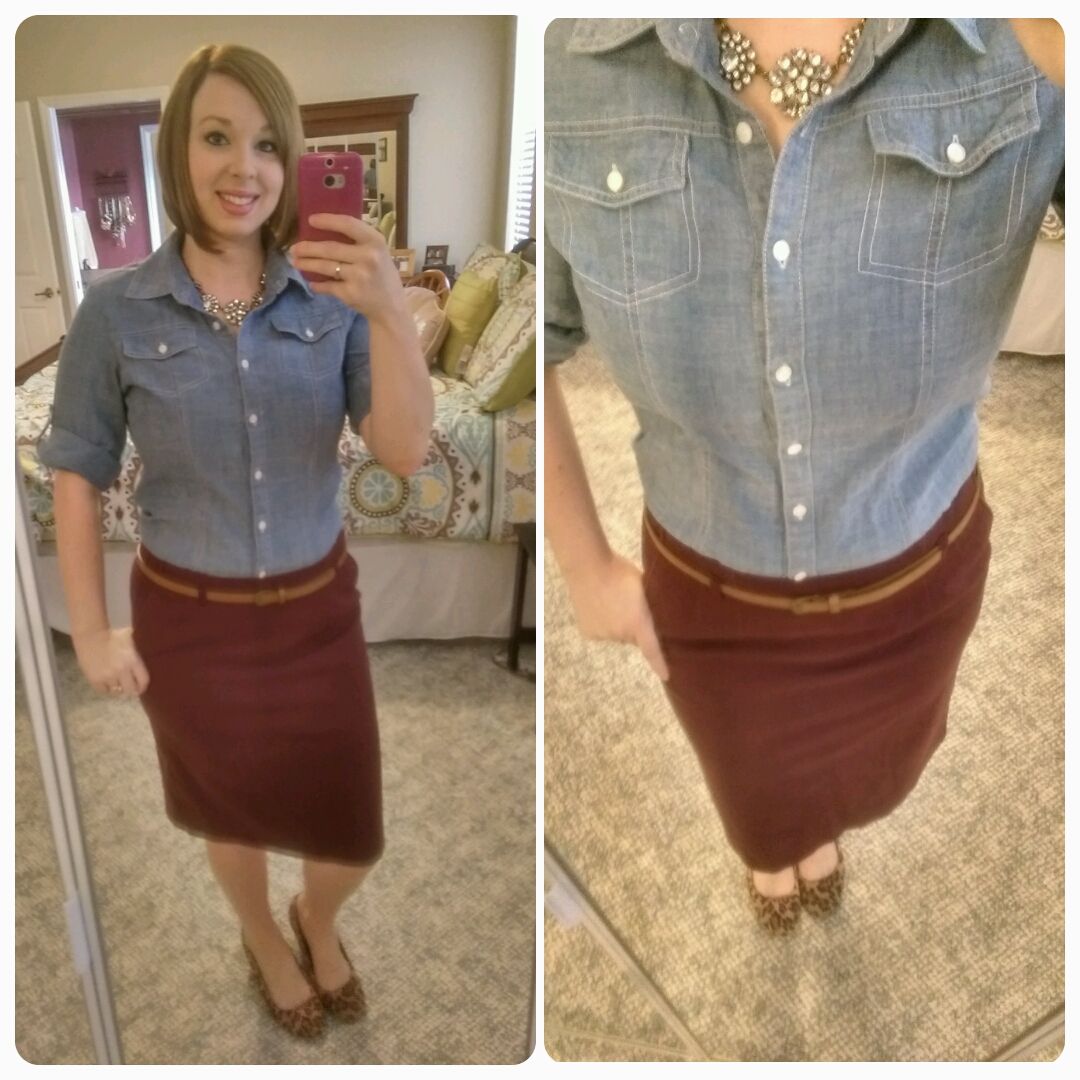 Stay tuned for Wednesday, when my dear friend Tara shares her fall color combo series post!