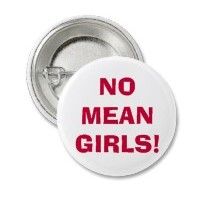 The past couple of weeks, I've seen more mean comments and statuses than I've ever seen. All this drama has been caused by women, who are just plain mean. Seriously, what ever happened to the statement, "If you have nothing nice to say, don't say anything at all?" If you know me in real life, I am a quite sarcastic and crazy person that always has someone witty to say. By no means do I think of myself as being "sweet." (I wish I was...I'm just usually too sarcastic to be sweet!) BUT, I try to NEVER say anything to anyone that is mean or hurtful. Believe me, I'm not perfect, I definitely have times when I think mean things about people, but I know how much words can hurt, so I try to build people up with my words instead of tearing them down. That's why I wrote the post a couple of weeks ago about The Compliment Challenge. I think women are so jealous and catty, that they don't even realize it! But, if you are constantly encouraging and loving on people, there's no time for rude remarks!
So the question is why are women so mean to each other? Here's what I've noticed over my short 25 years of life:
1. Women who don't feel good about themselves, usually have to tear someone else down to make themselves feel/look better.
2. They have been bullied or criticized, so they feel that someone else should feel the same pain. (Vicious bullying cycle)
3. Some women are mean just to get attention.
4. Most women are mean because they are jealous. (Think about the movie, Mean Girls!)
Do you have any other reasons you think women are mean to each other?....Comment and let me know!
So how do we stop this "mean girl" movement?
1.
Don't participate in the gossip, or comment on the mean posts, or add fuel to the "fire."
"He that goeth about as a talebearer revealeth secrets: therefore meddle not with him that flattereth with his lips."
Proverbs 20:19
2.
Think about what you're going to say, before you say it. (Hard one to live!
) "
...whatsoever things are true, whatsoever things are honest, whatsoever things are just, whatsoever things are pure, whatsoever things are lovely, whatsoever things are of good report; if there be any virtue, and if there be any praise, think on these things"
Philippians 4:8
3.
Compliment other ladies! See something nice, say something nice!
"She openeth her mouth with wisdom; and in her tongue is the law of kindness."
Proverbs 31:26
4.
When someone says something mean to you or about you, just remember the above reasons and take it humbly with a smile.
"He must increase, but I must decrease."
John 3:30
Remember people mocked, beat, and said false things about Jesus. His response was "Father, forgive them..." So, let us try to be like Christ, and pray for our mockers, criticizers, and "haters."