Today's post is written by the lovely Michelle! Michelle and I went to college together and graduated together too! :) She was always the epitome of a sweet, Christian lady! Her wonderful fashion sense is just an added bonus! She is expecting her first baby and looks ADORABLE! Hope you are ready for some laughs, because she's quite humorous!
____________________________________________________________

HUGE thanks to Lauren for allowing me to guest post today! Always grateful for her influence and the ministry of Modern Modesty!

I'm a big fan of Fall/Autumn! It doesn't get any better than leaves changing, pumpkin everything, cooler weather (depending where you live), and sweaters!! I've lived in Corpus Christi, TX for the last two years, so I'm really excited for the season!

First, I want to get REAL honest with you ladies. I'm not full of pumpkin flavored cheesecake ... I'm 29 weeks pregnant. According to pregnancy apps and my doctor I'm about to EXPLODE. I'm carrying WAY out front (which I'm grateful for) but I'm already flashing some belly with tops that aren't long enough! So I'm glad I was able to post early in the season! :) Here are a few things that I experienced while writing my article ... I'm sure all the moms out there can relate to most of these!
1. It took me 3 HOURS to change outfits and take pictures, and I had to take a couple breaks. Getting dressed while pregnant is hard work. Actually, EVERYTHING is a little harder with a 10 pound bowling ball hanging off your front!
2. I took cell phone pictures because each picture has to be taken at a very specific angle so as not to look like an elephant, or this lovely creature ...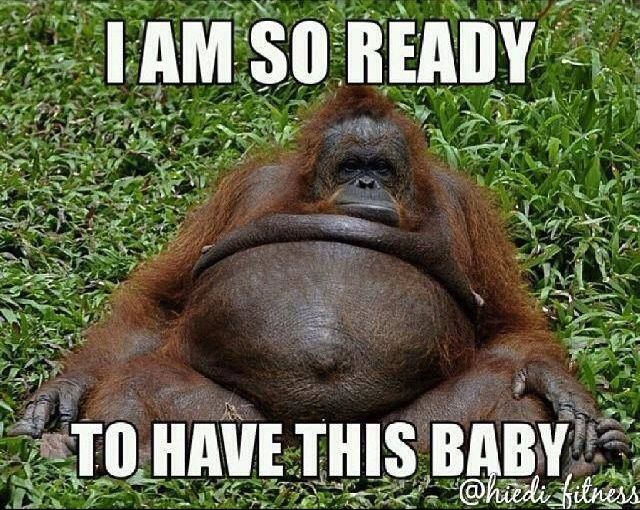 3. After I took the leopard shoe picture I decided that I will spare you all any more vein-filled feet pictures. Those things get worse by the week!
4. Most of these clothes will probably not fit in the next two weeks. I'm glad I have photographic evidence that I own more than 2 outfits.
5. The burgundy/maroon skirt is not even zipped up all the way. (just keeping it real)
6. I heard that belts are a life-saver for your pregnancy wardrobe. All of mine are on the last hole, so I'm not sure who said that, but they lied!
7. The filter I used on these pictures was literally called "food". Which I'm all about these days ...
These points are obviously meant to be humorous, I will mention some real tips amongst the outfit pictures. Serious kudos to all you ladies that have been through pregnancy multiple times. Dressing up takes a lot more effort, but is so important! A little work can go a loooong way to make you feel better about yourself. We need all the help we can get!!
Ok, let's talk Fall Fashion ..
I scored this sweater at JC Penny for (drum roll) $1.97!!!! I was praising the Lord! Here are three ways to style it! Thanks to Elizabeth Jancy for the tip about wearing a cami between your layers. I didn't even have to button all the buttons (bonus for the pregnant peeps)!! The last option I wore colored tights, which I'm in love with right now ... even though my husband says they make my legs look like sweet potato fries ... haters gonna hate! ;)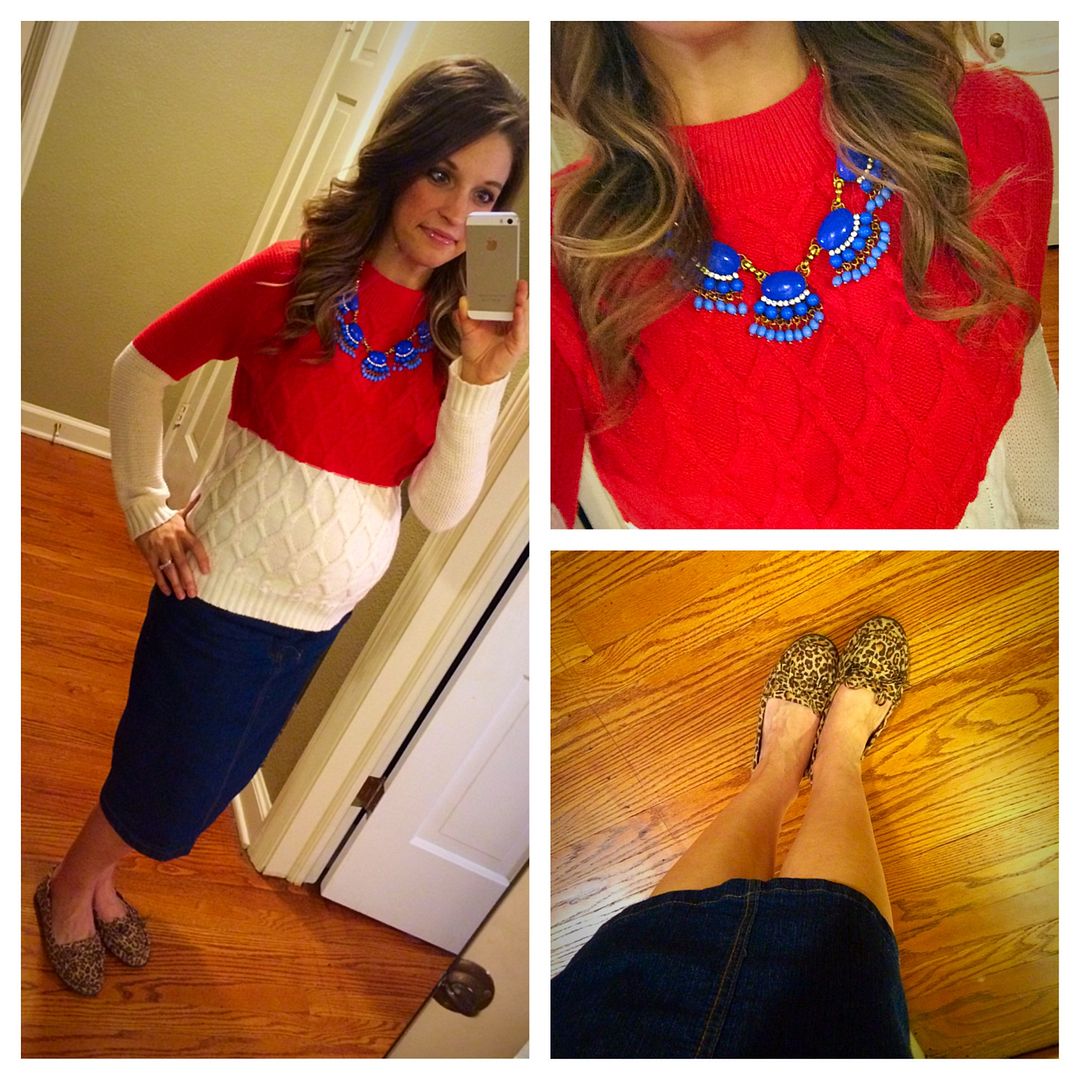 Here is the belt on the last hole! It was nice while it lasted! Seriously though, belts make you actually look pregnant and not just tubby. Be proud of that tummy! Burgundy skirt is from Van Heusen Outlet (they sell women's clothes too!).
I'm loving the burgundy/navy/leopard trend! This outfit is fitted, which can be scary during pregnancy, so be careful to keep it modest. Don't put on unnecessary pounds with ill-fitting loose clothes! Our goal is the opposite!
I was a little worried about the collar on this sweater, but it's growing on me! The first option is a little more casual, then dressed up with heels and a fitted jacket! A denim jacket is a definite must for fall! Boyfriend sweater is from Old Navy and Denim Jacket is from Charlotte Russe.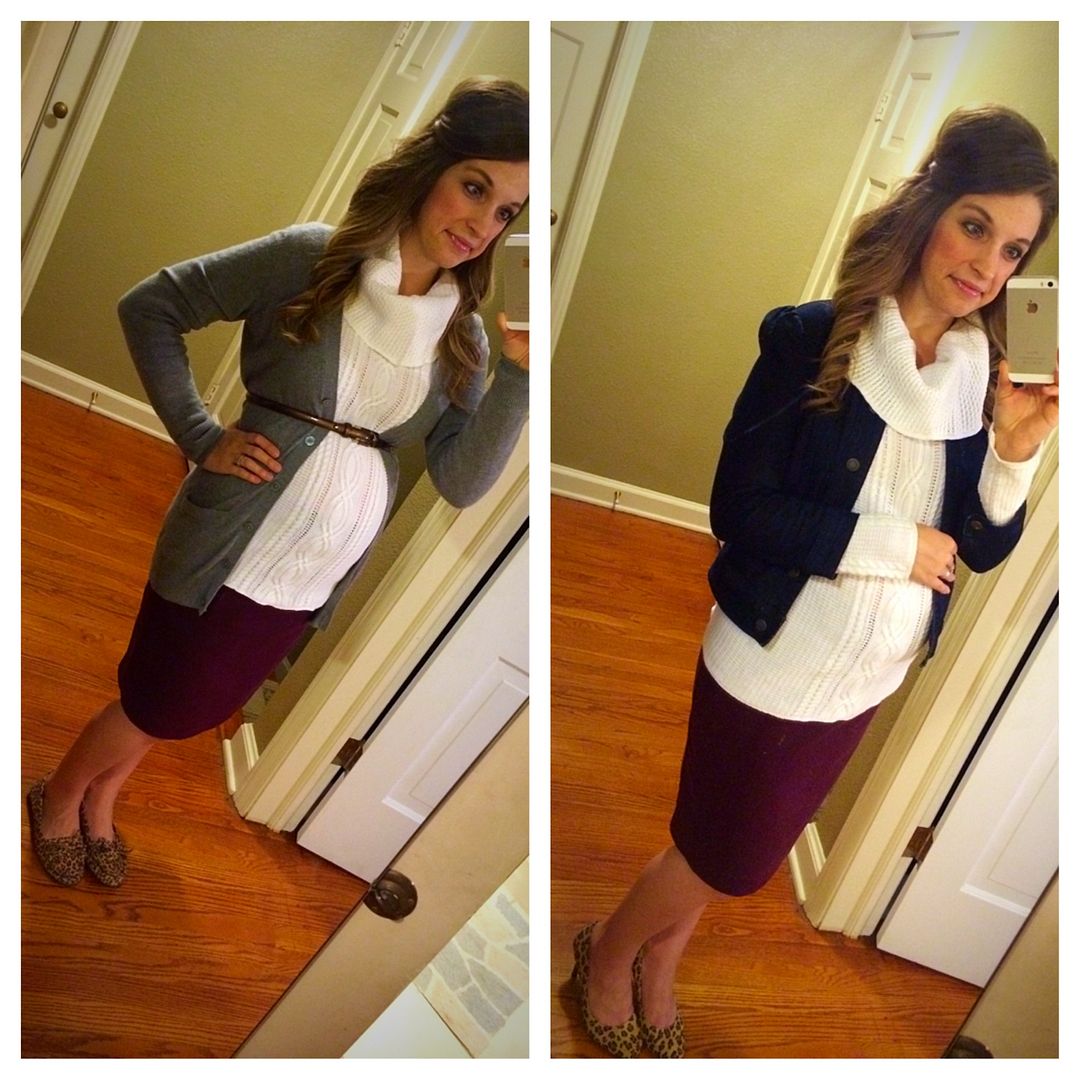 5. This dress was a gift and is cut very low. I buttoned up my jacket and added a scarf (Ross) ... problem solved! I'm wishing I had some caramel colored boots! Adding that to my Christmas list ...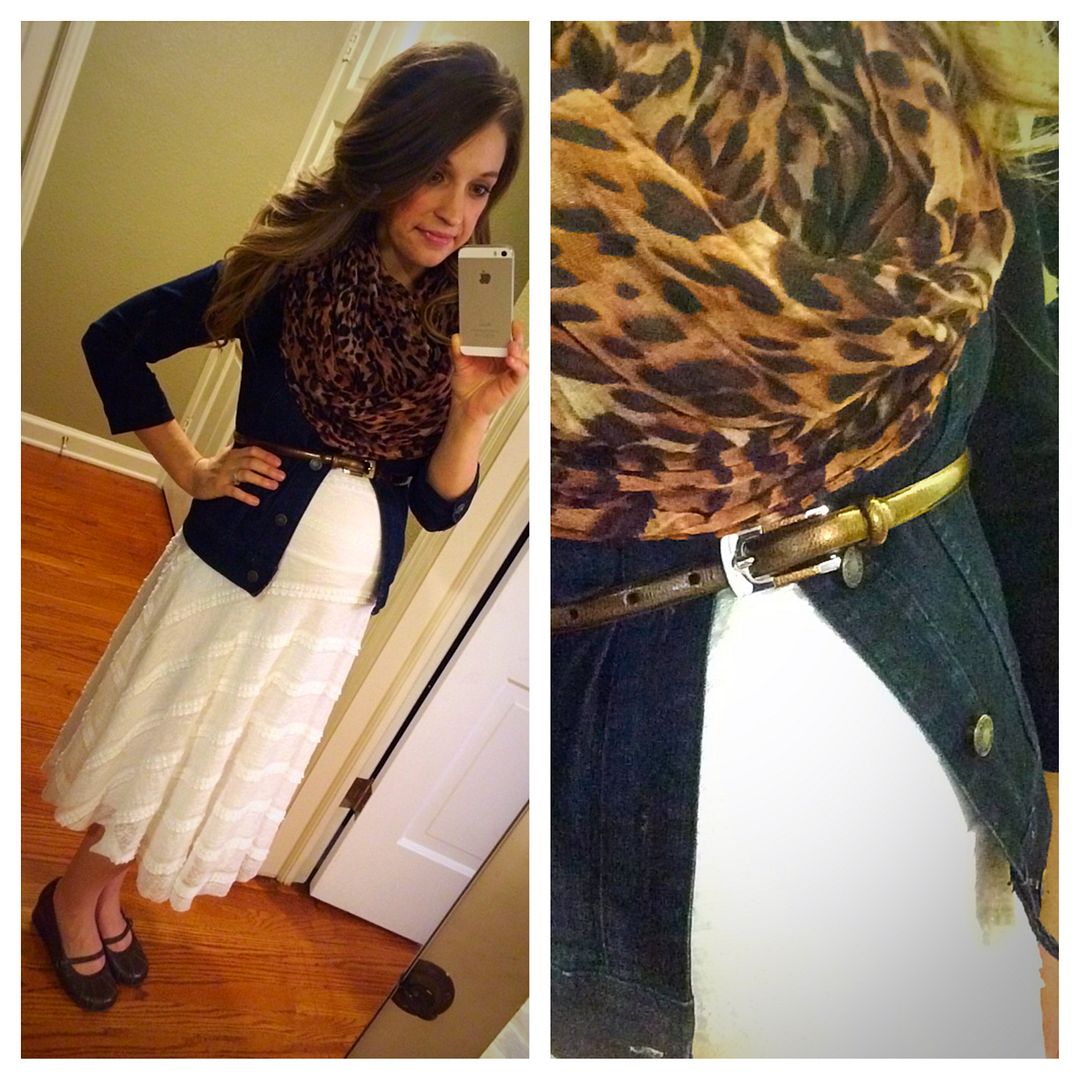 JC Penney is becoming a new favorite for me! This black/white maxi will fit me long after Baby Hoover comes. Maternity clothes can be really expensive, so buy things you can wear AFTER too!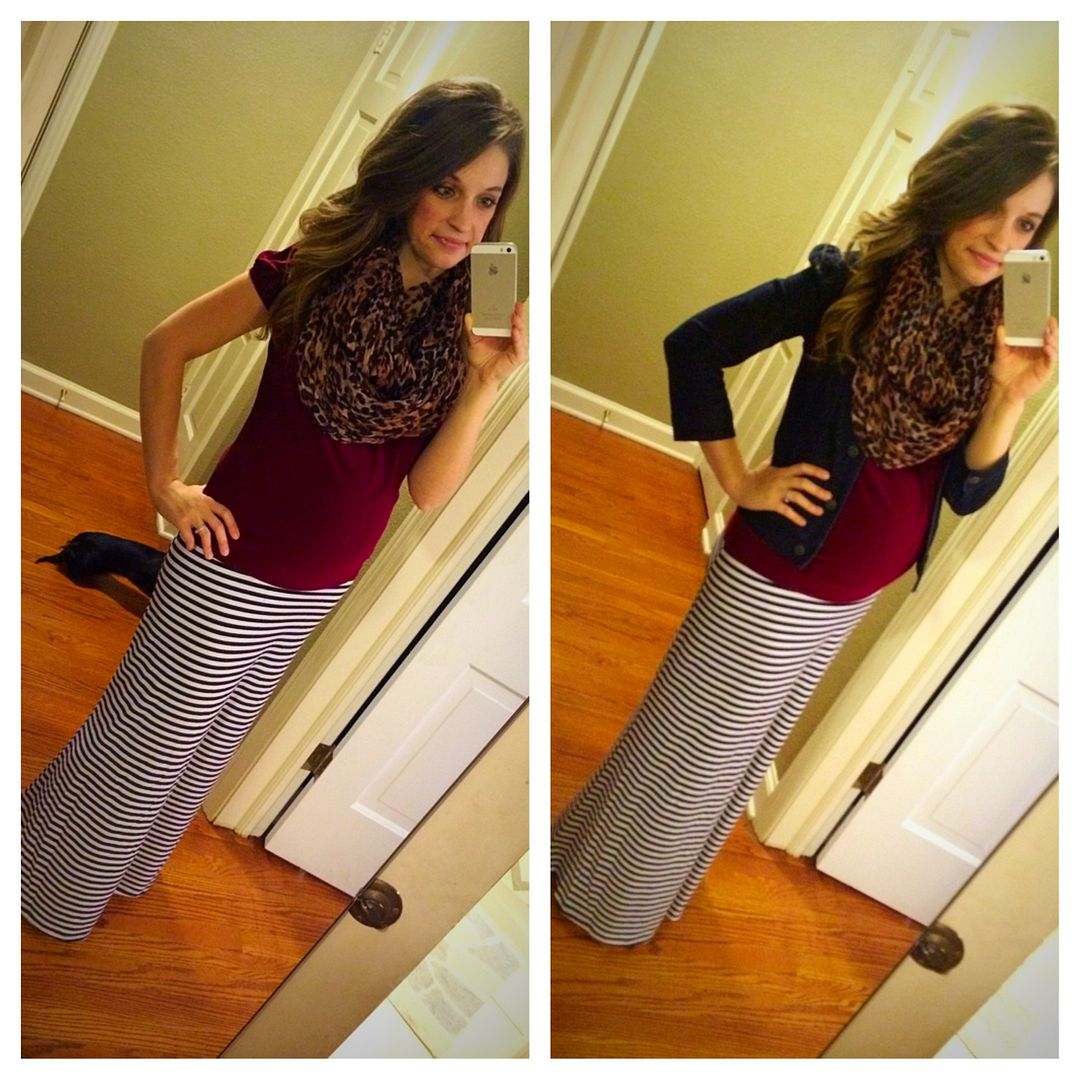 Shout out to our dog "Cookie" for staring at me awkwardly the WHOLE 3 HOURS. She is probably jealous ... the only article of clothing she has is a rain jacket ;)
_____________________________________________________________
I told you she was adorable and funny! Stay tuned for next week's post from Tara! Tara is quite the seamstress, so I'm sure you'll see lots of DIY items!