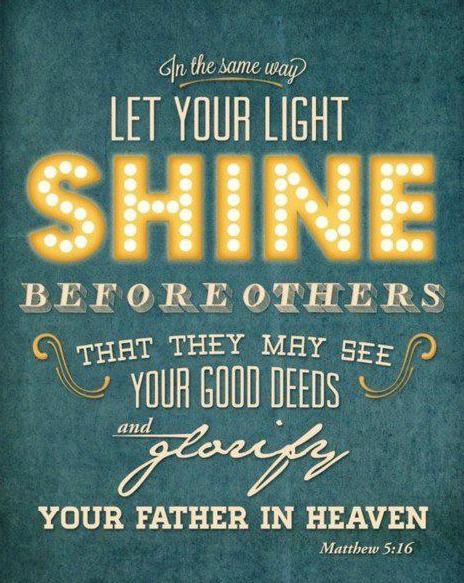 When I started Modern Modesty (the Facebook group) I NEVER imagined it would get this big! There are over 3,000 ladies in the group and it continues to grow daily. I'm sure you can imagine how much drama I've had to deal with over the past 6 months...opinionated ladies + different standards + different styles = CRAZY! Many times over these past 6 months, I've had to sit back and ask myself..."Why did I create this??" Believe it or not I've almost deleted the whole thing a couple of times. But, when I remind myself WHY I created Modern Modesty in the first place, I quickly forget all the negative people, comments, and critics.
1. I created Modern Modesty to
Glorify God.
We are the light of the world. We should dress and act in a way that points others to Christ. As wrong as it is, man can only see the outside appearance, no matter how wonderful your heart is, man can't see it, only God can..Therefore, I believe we should ALWAYS try to look our best, you never know who you're influencing. "..
for the Lord seeth not as man seeth; for man looketh on the outward appearance, but the Lord looketh on the heart
." I Samuel 16:7b
2. I created Modern Modesty for
Others
. I have a burden to help other ladies dress more modern & modest. Many Christian ladies hide behind their frumpy skirts, oversized shirts, and out of style outfits, because they have lost their confidence. I wanted to show ladies you don't have to be "out of style" to be modest. Also, I wanted to help ladies feel beautiful and stylish again. I've had HUNDREDS of ladies message me thanking me for Modern Modesty..here's a few messages/emails I've received.
Thank you so much for starting the modern modesty group!!! I go to a church (that I love) but the women tend to dress dowdy to be modest! It is so encouraging to see so many other women dressing modestly but looking so amazing doing it!!!

I have been meaning to write you. I am a pastors wife. My husband year ago took a rather liberal church. Dress and music standards were very low. I have been working with some key ladies and them I introduced them to this group. This has done more for the dress standards in our church than any other thing I have been saying. Truly a picture is worth a thousand words. Thank you.

Thank you for starting this group, Modern Modesty. Such classy ladies are posting great pictures, which say so much more than anyone else ever could in a talk or class. Really, you all are showing others that you can be modest and adorable, sophisticated, trendy--in a good way, and feminine.

Hey Lauren, just wanted to say hi and thanks for the modern modesty site, in April I was at a ladies conference and one of the speakers said they we're so thankful for this modern modesty trend, and that it's nice to be able to wear cute clothes and show the world you can be modest and stylish. I live in a little county town and before this group I had to wait until conferences to see what was in "baptist style". It's nice to get ideas for outfits I'd never been able to think of on my own. Thanks for the tips, it's fun.

Thank you so much for Modern Modesty. What a blessing. My daughter and I both just love it. I just wanted to write you and tell you thank you. I know this is such a touchy subject and for whatever reason can make many ladies angry, and I'm sure you have probably had some not so nice comments. This site is what we need...a kind, yet very fashionable site for those of us who want to be different from the world!

I know you don't know me but I just wanted to send you a little message and tell you that I really appreciate the time you have taken to be a blessing, encouragement, example, and friend to all of the ladies on Modern Modesty. You have been an encouragement to me and some of the ladies that I am friends with. Thank you so much for being a Godly example to others! I believe that modesty is very important and should be something that you can make fun & interesting! You have really opened my eyes to new ideas and I thank you for that.
3. I created Modern Modesty for
Myself.
My style is naturally very classic. My husband on the other hand is very trendy and stylish. I wanted to challenge myself to take the trends of fashion and convert it into my modest style. I believe posting an outfit a day has truly made me dig in my closet, and find many new options. As a Christian school teacher, I can't go buy expensive name brands, so I've learned to thrift and find modern styles for less.
Contrary to what many people think, I do not post my outfits to "show-off" or get likes...as you can see I do it to help women get ideas to incorporate in their own style! Modern Modesty is a ministry to me. I just want to glorify God and help ladies. Thanks to all the sweet ladies for encouraging me everyday!